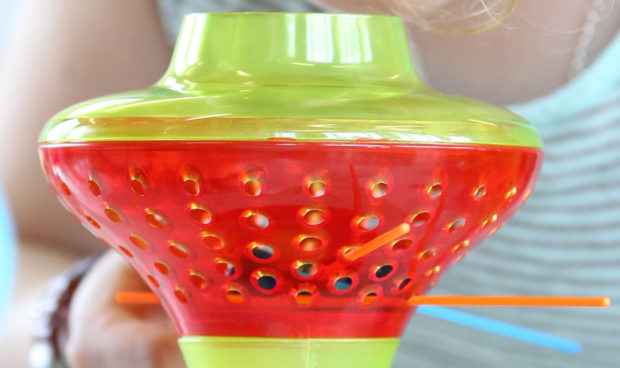 A drug addict who "lost his marbles" in a breach of the peace bust-up with a boy during a game of Kerplunk has been spared jail by a sheriff.
Marc Pert fought with the 15-year-old at a house in Arbroath when the fun around the popular family game turned sour.
At the time the 36-year-old was subject to a community payback order imposed after vicious attacks on British Transport Police and regular officers following a Dundee train station incident.
Pert, of Newton Avenue, Arbroath appeared for sentence at Forfar Sheriff Court where he admitted breaching the peace in Glenogil Drive, Arbroath on September 28 last year and fighting with the youth.
Defence solicitor Nick Markowski said: "It was at a mutual friend's house that the Kerplunk offence occurred.
"He seems to have made some steps, is back in his own tenancy in Arbroath and there hasn't been any further offending since."
The accused also admitted breaching a community payback order imposed in the wake of the Dundee incident in August 2017.
Pert assaulted two BTP officers after claiming he had swallowed razor blades when he and another man tried to get through the Dundee station barrier in a mid-afternoon incident.
He said he had taken drugs during a journey from Grimsby but when transport police tried to search him Pert became aggressive, repeatedly punching and kicking one officer.
He was taken to Police Scotland HQ in Dundee but then bit a BTP officer on the leg, before attempting to bite a police custody officer.
Referring to that incident, Mr Markowski said: "He was under the influence of street valium, has little recollection of the offence and pled guilty under legal advice."
Pert had been ordered to carry out 140 hours unpaid work within 12 months for those assaults and the court was told he remained on the CPO and subject to a drug treatment order.
Sheriff Murray, who suggested the accused had "lost his marbles" in the Kerplunk incident revoked the existing CPO and imposed a new order on Pert, requiring him to carry out 100 hours unpaid work.
"If we have a review in three months', I can keep an eye on your progress," said the sheriff.
"Don't think you are out of the woods yet," he warned Pert.