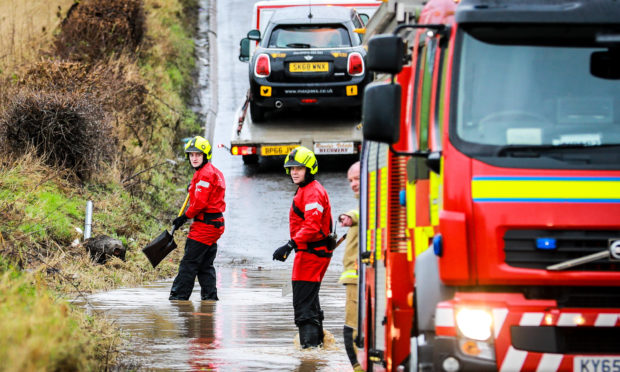 Storms battered large parts of Courier Country on Saturday morning with more gale force winds predicted for the first half of the week.
A yellow weather warning for strong winds is in place for the north east portion of Angus as Storm Brendan brings this year's worst weather yet to UK shores.
Flooding closed roads across Fife on Saturday and two people were taken to hospital and the A916 road south of Cupar closed on Sunday morning after a gritter lorry overturned.
Their injuries are not thought to be serious.
Travellers were stuck on both sides of the Tay Road Bridge on Saturday morning as the bridge completely closed to all traffic at around 8am.
The bridge later reopened to cars and single decker buses, but the cyclist and pedestrian walkway remained closed until around 11am when the winds began to die back.
A high wind speed of 41mph was recorded in Riverside Park on Saturday morning, with branches, bins and other storm debris strewn across local roads in Fife and Tayside.
Yellow Warning of Rain affecting Scotland (Central, Tayside & Fife)
https://t.co/owo0YRXPlf
pic.twitter.com/BZavdKuyxI
— Met Office warnings (@metofficeEScot) January 8, 2020
Greg Dewhurst, from the Met Office, said the calm day and blue skies enjoyed by many on Sunday was only a "brief respite" from the blustery winter weather.
He said the storms were a "double whammy" for communities in the north east of Scotland.
"The start strong on Monday morning, but will get even stronger on Monday afternoon, with a band of rain pushing through and causing some disruption in local communities.
"It's going to be a pretty grotty afternoon."
He said the southern part of Courier Country would not be as badly affected as the northern, more coastal areas, but was likely to be hit by more heavy rain.
"Tuesday is still going to be fairly blustery and it is likely to be fairly wet. We are still going to see 30 or 40 mph winds, but dying down in the evening time," he added.
Experts are predicting more extreme weather in the west of Scotland when Storm Brendan hits.
Warnings include the chance of hurricane-force gales, 50ft waves, and the potential for more flooding.
Around 7,000 RAC UK call-outs are expected across the UK as the storm strikes.
Snow is also set to hit roads crossing Scotland's hills on Tuesday, Wednesday and Friday, as 10C highs tumble to 6-7C by the weekend.
The Met office said Thursday sees another system with potential for severe gales similar in strength to Tuesday's gusts, with the West of Scotland again likely to be the worst affected.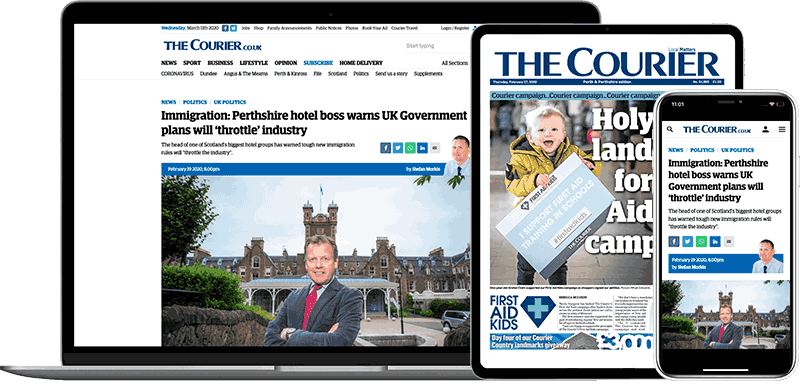 Help support quality local journalism … become a digital subscriber to The Courier
For as little as £5.99 a month you can access all of our content, including Premium articles.
Subscribe