Support offered to grieving friends in wake of death of Arbroath's Bailey Menmuir
The Arbroath community has been urged to stand together and support each other following the death of Bailey Menmuir.
Reverend Martin Fair of St Andrew's Church said he has "rarely seen such an outpouring of grief" following the popular mechanic's death which was confirmed by police on Monday following a formal identification.
Support and professional help has been offered to Bailey's grieving friends after his body was found in Arbroath on Friday following a huge search operation.
Mr Fair said: "This has been an absolutely tragic week for Arbroath, I've rarely seen such an outpouring of grief.
"You listen to those who knew him well and you begin to understand just how well-liked he was – a special young guy who was kind and thoughtful and who was the life and soul of every gathering.
"But at the same time, I've rarely seen a community coming together like this, particularly the young people who have been amazing and inspirational.
"They've shown everyone what friendship is all about.
"We took a spur of the moment decision to open our church on Friday evening, just to make a space available for people to come together, and were overwhelmed that the better part of 300 people came in, most of them young people.
"It was a privilege to welcome them and to witness how they supported each other.
"I know they're continuing to do that.
"The good news is that there is lots of support across this town and that lots of folk have come forward to offer caring, listening ears and, as well, professional help if required.
"Nobody need be alone with grief. I hope that message goes out and that this community will stand together in support in the coming days and weeks."
The 21-year-old, who was also known as Bailey Mearns, came into contact with many youngsters in Arbroath, mainly through playing football and coaching youth teams.
In a statement, Bailey's family said: "Maureen, Debbie and Marc would like to thank all those who shared the appeal and everyone on social media for their kind words.
"We are overwhelmed by how many people were thinking of him.
"We would now ask for privacy at this time as we try to come to terms with our loss."
Bailey was part of a close-knit group of friends and had just started a job in the offshore industry.
His girlfriend Katie-Louise McIntosh said she was beyond heartbroken and thanked those who had helped look for him since he went missing on January 6.
She said: "I love Bailey more than life itself and I know everyone who ever met him can understand why.
"The power of social media has been amazing, however the power of human compassion is what has amazed me most.
"Remember to hold your loved ones, and anyone, a little closer next time you see them."
Angus Council children and learning convener Derek Wann urged pupils struggling to cope with Bailey's death not to suffer in silence.
"There is always someone to speak to if you are struggling – the schools are there for the pupils affected by this tragedy," said Mr Wann.
"I would urge anyone who is suffering that they should they reach out and speak or if you see someone please reach out to them.
"The community has come together on this and it shows nobody should feel alone."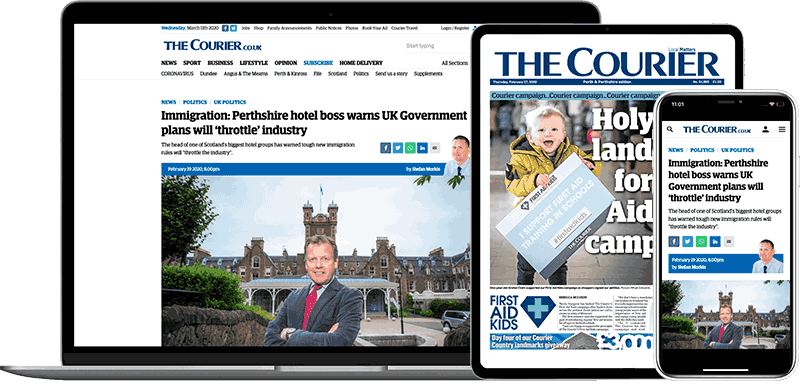 Help support quality local journalism … become a digital subscriber to The Courier
For as little as £5.99 a month you can access all of our content, including Premium articles.
Subscribe