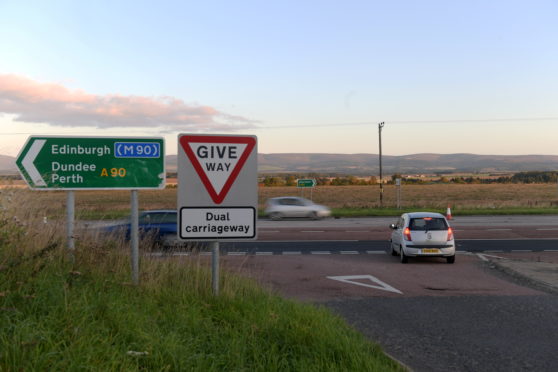 Speeding drivers who continue to speed through the 50mph limit at the blackspot Laurencekirk junction on the A90 are being targeted in a new campaign.
Shocking figures have revealed an average of 20 drivers a day are ignoring the short stretch of lower limit put in place in response to the appalling accident rate around the A937 turn-off.
In the three months to December, cameras captured more than 1,700 speeders, leading to 1,034 fixed penalty fines and almost 200 reports to the Procurator Fiscal.
Plans for a long-awaited grade-separated junction were showcased to the local community earlier this month, but safety chiefs have said the number of drivers ignoring the 50 limit continues to raise "significant concerns".
North Safety Camera Unit has begun a localised campaign to target motorists who regularly travel on that section of the Dundee to Stonehaven dual carriageway.
It will include visiting Laurencekirk primary school, local businesses and events.
For the first time, the Laurencekirk data was made made available separately within the quarterly speed camera statistics.
It showed almost twice as many drivers over the 50mph limit than the figure for 70mph average speed cameras offenders between Dundee and Stonehaven – 1,735 against 915.
The previous July to September period revealed a staggering 2,602 offences at Laurencekirk, 539 of which were reported to the courts.
Camera unit bosses said the figures were disappointing in light of significant additional signage, vehicle activated warning signs for those breaking the limit and prominent average speed camera signs and yellow poles.
North Safety Camera Unit manager, Arron Duncan said: "Whilst the majority of drivers are aware of and adhere to the 50mph speed limit at Laurencekirk, these figures highlight that there is still a significant number of motorists who do not comply, putting themselves and other motorists at risk which is not acceptable.
"Since the average speed cameras on the A90 went live in 2017 we have seen an increase in compliance with speed limits on the A90 and an overall improved driver experience using the route.
"However, we still detect an average of 20 motorists a day who do not adhere to the 50mph zone at Laurencekirk," said Mr Duncan.
"The restricted zone is signed to a level well above normal requirements but we are now having to look at other alternatives to remind motorists to reduce their speed."