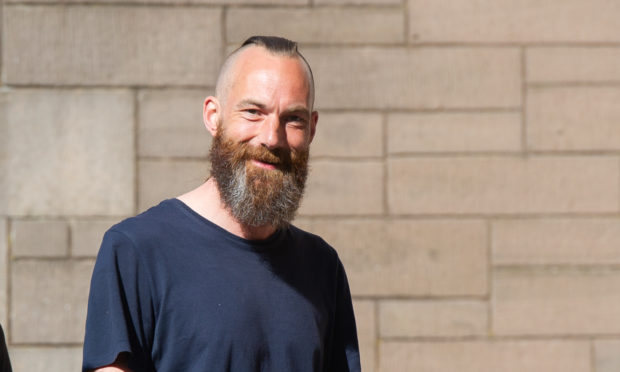 A shamanic sailor who pinched a £15,000 yacht from an Angus harbour has been made to sign on weekly at a police office to remind him of an upcoming court appearance in his alternative life where dates hold less importance.
Richard Gould told a sheriff he understood the sign-on requirement but did not agree with it after the Afghanistan veteran appeared from the cells at Forfar Sheriff Court from three days in custody following execution of an outstanding arrest warrant.
Gould, 43, has now seen a 100-hour unpaid worked order revoked in respect of the September 2018 offence in which he stole the 27-foot Osprey from Arbroath harbour.
Social workers put in charge of ensuring Gould complied with the community payback order had branded it "unworkable".
Gould and his partner managed to get aboard the yacht during alternative lifestyle travels which brought them to Angus after two years of living under the skies.
The pair were said to be following a shamanic existence, an ancient spiritual practice of transcendental energy.
They carried out odd jobs on the stolen boat because they wanted to "show it some love", before sailing out of the harbour and heading to Montrose.
The theft was discovered when Osprey's Fife owner logged on to a harbourside webcam and noticed his craft was missing from the town marina, triggering a multi-agency chase.
Police and coastguard were involved in a pursuit along the Angus coast, which ended with specialist diving unit officers boarding the vessel near Lunan Bay.
Earlier this month, a sheriff issued a warrant for Gould's arrest after he failed to appear in court for a hearing into the alleged breach of the CPO.
Explaining his client's failure to appear, solicitor Nick Markowski said: "Because of the lifestyle he chooses, dates are not of the same significance to him as they perhaps are to others.
"He understands the situation he is in having now spent three days in custody.
"His world view, if I can put it like that, meant the social work department found it difficult to get the community payback order moving forward.
"He accepts it was unworkable, but not that it was breached. He has what could be classed as an alternative lifestyle but is also someone with a strong sense of community.
"The original case was unusual, but he is not offending. He resides with his partner at a permanent address and they are in receipt of benefits," added Mr Markowski.
Sheriff Derek Reekie granted Gould's release on bail, but added a special condition requiring the accused to sign on at Arbroath police office every Wednesday.
He said: "What concerns me is that if dates don't have the same meaning in Mr Gould's attitude, that causes us a problem.
"A signing on requirement will be a reminder that the dates are important."
Gould, of Glenesk Place, Arbroath will return to court on February 27 following the preparation of a full criminal justice report.