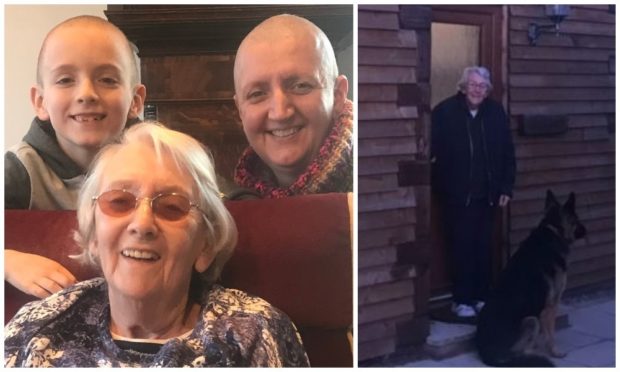 A Tayside gran's wish to live independently following a dementia diagnosis has come true – after her family built her a home from home.
Marion Cook, 82, was diagnosed with Alzheimer's in March and desperately wanted to maintain her longed-for independence, despite her failing health.
Daughter Lisa Urwin 50, from Montrose, worked up a plan to ensure she could remain "at home" but also be as close to her family as possible.
After exploring a range of options the family finally decided on a "granny annexe" and built it in the back garden.
Mum-of-three Marion is now kept busy with regular visits to the wood cabin from Lisa, grandchildren Zach, 9, Jake, 12, Callum, 14, and the family's German Shepherd Jacko.
Lisa said: "We wanted to have mum near us as her health was failing.
"So we embarked on a journey to see what was best for her.
"Our remit was to get her a place where she would be able to live semi-independently for as long as possible, but close enough to allow maximum contact with family.
"In conjunction with the council and our architect Stephen Pirie we ended up with a lovely wood cabin in our garden.
"I now can be with my mum within seconds as required, and as my mum's condition deteriorates I can care for her whilst not impacting too much on family life.
"Her wish has always been to stay in her own home, and I hope to honour her wish as long as I can."
Lisa said Zach has a special relationship with his gran and visits her daily.
"He goes and has a chat with her, steals a chocolate bar, but in turn she gets a lovely cuddle and the stimulation needed," she said.
"Jake makes her a cup of tea and Callum goes and tells her about his day.
"Jacko, my German Shepherd, also goes in and gets a dog treat and a snuggle on the carpet."
Lisa said she started to notice strange things happening to mum-of-three Marion around three years ago.
These included mood swings and also changes in her writing including bad spelling and on one occasion writing a mobile phone number instead of a postcode on an envelope.
Lisa said the care her mum has received since her diagnosis from specialist dementia nurses and the social work department has been "second to none".
She attends day care at the Adam Centre in Montrose and "lifeline" coffee mornings and lunch clubs which are put on by Alzheimer Scotland.
The family wanted to give something back and Lisa and Zach organised a sponsored head shave which was carried out by Jocky McLean at Chop Barber Shop in Montrose.
Money raised went to Alzheimer Scotland and Guide Dogs for the Blind where Lisa has been a volunteer for the past four years.
They have already raised £600 for each charity.