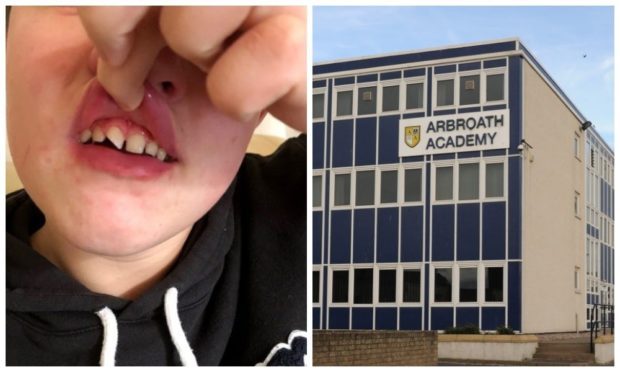 A 12-year-old Angus boy needed emergency dental surgery following a violent attack by school bullies.
The Arbroath Academy pupil was pinned against the wall of the school's bike shed before being punched and kicked in the face by his attackers.
The boy's front tooth broke off during the onslaught which was watched by around 100 pupils. Many stood by laughing while they filmed the encounter on their mobile phones before it was uploaded to social media.
Three pupils were suspended and two have been charged by the police following this week's incident — the latest in a string of high-profile bullying episodes in Angus schools.
The victim's mum said the attack was orchestrated by a group of bullies who had been "tormenting him" for the past 18 months.
"In the video he can be heard saying 'you've broke my tooth' yet one boy still continues to punch him and another fly-kicks him into a wall," she said.
"My son was forced to undergo emergency reconstruction dental work to restore it and will require to have it rebuilt every six months until adulthood where he can decide on long-term options.
"The mental health aspect of the torment my son has suffered will also last a lifetime. He can't stop thinking about it and I've told him to talk to me if he feels there is no way out.
"Parents should not underestimate the devastating impacts that bullying can have and some kids have turned to suicide. It is heartbreaking having to have that kind of chat with my son."
She praised the school and police for the action taken but called for a change in the law so persistent offenders can be removed from mainstream education and their parents face financial penalties.
A Police Scotland spokeswoman said police were called around 11.30am on Tuesday following a report of an assault on a 12-year-old boy at a school in Arbroath.
She said: "Two boys, aged 13, have been charged in connection and a report will be submitted to the Youth Justice Agency."
An Angus Council spokesman said: "We are aware of this matter and of the appropriate action that has been taken with regards to all individuals concerned and their families.
"If an incident does happen, we want our pupils to report it immediately in the knowledge and confidence that it will be dealt with appropriately and effectively."
The latest incident comes just weeks after a girl was filmed being dragged along a corridor by her hair in a 42-second clip shot inside Carnoustie High School.
A 14-year-old Forfar Academy pupil needed hospital treatment after allegedly being attacked from behind by three classmates in January.
Police charge girl, 12, after video of alleged incident at Carnoustie school shared