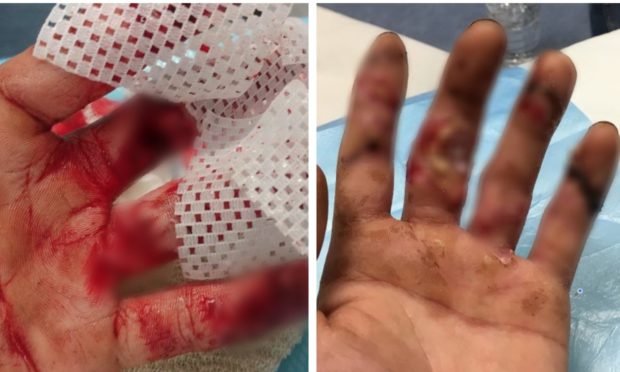 A bricklayer whose fingers were mangled in a chop saw and was then sacked has been awarded £70,000 in damages.
Connor Penman from Kirriemuir, Angus, needed a seven-hour operation for tendon damage and was off work for four months, only to be dismissed by his boss when he did return.
The 29-year-old said his middle finger and forefinger were hanging off after an accident chopping wood while working for Mike Watt Construction in May 2018.
Warning: graphic images below
Business was quiet so tradesmen were tasked with different duties around the Northmuir site and Connor was told to cut up pieces of wood to be sold as firewood.
But he had never operated the chop saw, which spins up to 50,000 revolutions per minute.
He said: "My boss just told me to get on with it and left me to it, I was on my own so there was no one else around to ask for help.
"I was left to guess how to use this machine and there was an issue with the guard that protected the blade.
"It was all a blur but I think the guard pinged back after the blade jammed while it hit a nail in the wood, this then caused the whole machine to kind of lurch and it caught my hand.
"I'm okay when it comes to pain and stuff but with this I remember screaming."
Connor was then taken to Ninewells Hospital in Dundee for an emergency operation. He had significant tendon and neurovascular damage and needed a vein transplant.
When he returned to work in August 2018, Connor was laid off on the spot but has now won a personal injury claim for £70,000.
"I couldn't believe the cheek of it when he let me go as my injuries were his fault," he said.
"People need to know what he did and how he reacted because it's simply not right.
"Although my hand will never be the same, winning the legal case means I can make up for lost wages, get a mortgage for a home and get the recognition I needed to prove I was right."
Robert Kernaghan from Digby Brown Solicitors, who represented Connor, said: "Agreeing to do a dangerous task when asked by your employer does not mean you have less rights in the event something goes wrong.
"Employers have a legal duty to provide a safe working environment, safe clothing and the training needed to safely operate equipment and that is true whether the workplace is in construction, an office or offshore.
"Our investigations showed Mike Watt Construction failed in its duty of care so we are pleased to have helped Mr Penman secure rightful damages."
Mike Watt Construction did not respond to a request approached for comment.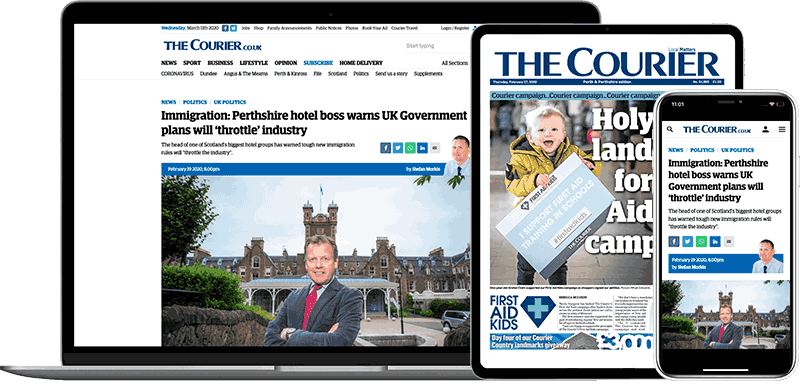 Help support quality local journalism … become a digital subscriber to The Courier
For as little as £5.99 a month you can access all of our content, including Premium articles.
Subscribe