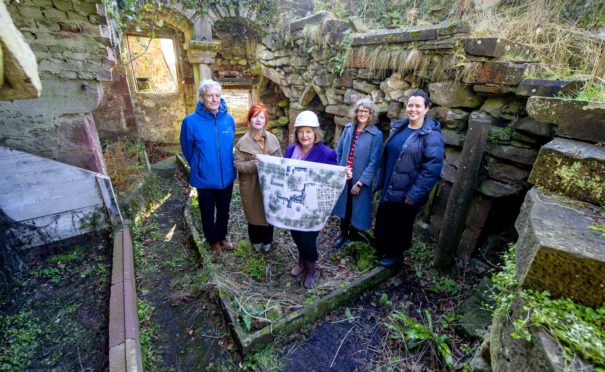 The repair of an Angus architectural rarity and development of former Perthshire prisoner of war huts are projects set to benefit from a near £850,000 conservation windfall.
Hospitalfield House in Arbroath and Comrie Development Trust are winners in the Historic Environment Scotland announcement of £842,802, which will be shared by four heritage projects nationwide.
£92,387 repair grant award will help with the restoration of Hospitalfield's 19th century fernery, designed in 1872 by Patrick Allan-Fraser to house two New Zealand tree ferns, which is the only building of its type remaining on the east coast of Scotland
On his death in 1890, Hospitalfield was part of the estate which artist and architect Allan Fraser left in trust to support artists of the future. The estate became one of Scotland's first art schools in 1902.
The walled garden at Hospitalfield is to feature a new design exploring 800 years of the garden's history, with year-round public opening and a new café included in the ambitious plans to expand the role of the house as a cultural hub.
Hospitalfield director Lucy Byatt sad: "This is the first major investment into the buildings for 100 years. It is absolutely wonderful to see our contractor CHAP Construction on site and making such excellent progress."
Comrie Development Trust has been given £108,810 to redevelop 11 B-listed Nissen Huts at the former Cultybraggan prisoner of war camp, known as Camp 21.
Five of the huts will be redeveloped into high-quality, sustainable self-catering accommodation, one into a furniture store and laundry to support the self-catering offering, and five into commercial let accommodation including a possible pop-up café.
The camp is the only Second World War prisoner of war camp in Scotland which is open to the public.
It is the latest boost to the trust's efforts to develop the site which was once home to 4,000 category A prisoners from some of the most fanatical Nazi organisations, such as the Waffen SS.
The camp is already well used by a variety of groups, including Cubs, Guides and Comrie in Colour.
The repair grants awards will also see £500k go to Inverness Creative Academy to repair and revitalise its 125-year-old historic base, originally home to the former Inverness Royal Academy.
An award of £141,605 has been made to 15th century Dunollie Castle in Oban for works to the exterior and the main tower.
Amy Eastwood, head of grants at HES, said: "From offering public access to creating co-working spaces, these projects are fantastic examples of how conservation and re-use of historic buildings can make a positive contribution to the wider community."
The programme offers grants from £10,000 to £500,000 to support conservation-standard repair projects across Scotland which secure the original fabric of historic buildings and ancient monuments using traditional materials and skills.