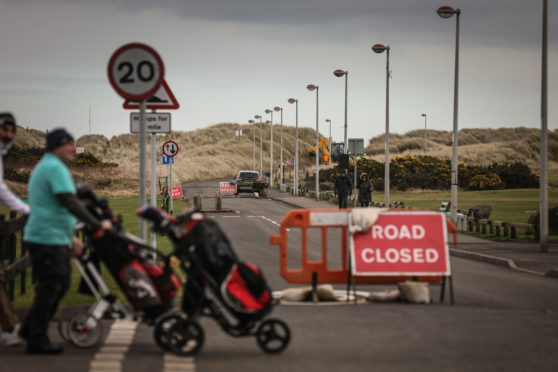 Bungling builders have been forced to rip up controversial Tayside speed humps for the second time this year.
The original traffic calming measures at Montrose seafront had to be removed because they were too high.
Now the replacement bumps on the town's Traill Drive have also been dug up for reasons which are not clear.
Angus Council and Tayside Contracts chiefs have said they will be work more closely to avoid any further mistakes.
However, the latest works have led to a call for the £9,500 safety scheme "saga" to be scrapped completely.
The beach boulevard project was approved by councillors last August, despite claims the measures were not needed. They opted for £9,500 full-width road bumps rather than £14,500 speed cushions.
The road, which includes access to the busy Seafront Splash play area, is used by hundreds of vehicles daily and already has traffic-calming chicanes.
However, the humps scheme was branded a waste of money by one critic who said a consultation exercise had drawn a tiny response and monitoring had revealed an average speed of 20.1mph on a stretch with no accident record.
Humps were put in place but were almost immediately removed after it was found they had been built too high.
It has now been confirmed a second attempt to install the safety measure will also have to be redone. Tayside Contracts picked up the tab for the first foul-up and it is understood that will be the case for the third attempt to install the humps.
Montrose Independent councillor Tommy Stewart, a leading supporter of the safety scheme said: "I am extremely disappointed that the works to install the humps has not met the specifications as set out by our roads department.
"I, along with the convener of communities, are already in the process of arranging a meeting with officers and officials from Tayside Contracts, to discuss this and other recently completed works. "
Montrose SNP councillor Bill Duff, who previously described the speed humps as a "solution to a non-existent problem" called for the project to be dropped completely.
Mr Duff said: "This is turning into a real saga and regular users of this route must be fed up.
"I'm rather hoping that sense will prevail and we scrap the whole idea."
An Angus Council spokesman said: "Work has restarted to ensure that speed humps along Traill Drive are installed to the correct specification.
"This should be completed shortly and we are working closely with Tayside Contracts to ensure that any re-work of this type is prevented in future."
Tayside Contracts' head of operations, Dougie McKay said: "We recognise that our work has a direct impact on the community.
"We are disappointed that the work at Traill Drive has needed to be redone and I apologise for this.
"We are reviewing our processes and procedures to minimise the potential for future occurrences, in addition seeking improvements to how we work with Angus Council through our ongoing collaborative partnership discussions to deliver the expected quality of service to the communities we serve."