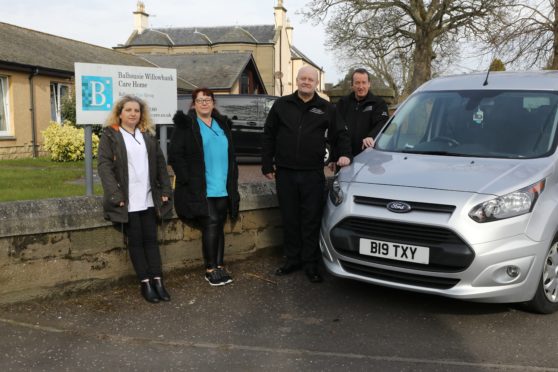 Grateful Carnoustie care workers have thanked a big-hearted taxi company for helping them in their hour of need during the coronavirus crisis.
Staff at the Balhousie home in Willowbank are taking up an offer from Links Cabs, which has offered free rides to hard-pressed local staff.
Jan Robertson, home manager at Balhousie Willowbank, said: "It's a really kind gesture and means a lot to us at a time when care staff are under extra pressure. On behalf of our staff I'd like to extend a massive thank you to this team of taxi drivers."
"Our staff are coping really well – they're a dedicated bunch – but when you're asking people to come in for a few extra hours at short notice, as is happening just now, every little helps.
"We work around the clock, so free cab rides early in the morning or late at night are a real lifeline right now," she added.
Links Cabs, which operates six vehicles in Carnoustie, has already offered to pick up shopping and medicines for elderly customers without charge.
John McKenzie, disability operations manager at the firm, said care workers often worked long, anti-social hours.
"We didn't want the staff standing at the bus stop for hours on end so we decided to do the taxis free of charge during this period," he said.
"We wanted the workers to be able to get home at the end of a long shift without worrying."
He said the business was rallying round to help some of those most vulnerable even though drivers remained aware of the risk of contracting coronavirus themselves.
"Naturally, it crosses your mind. All of our cars have been fitted with hand sanitiser and cashless payment facilities and that is the best we can do," he said.
"Most people sit in the back of the car, and most of the cars are the big six seaters, so we can maintain the metre and half distance that is recommended.
"We are doing the best we can," he added.
Carnoustie independent councillor David Cheape praised the firm for the gesture.
"While so many are asked to stay at home or work from home or socially isolate, not everyone can and we have to thank wholeheartedly the efforts of those continuing to provide as safe as service as possible to those such as care workers," he added.