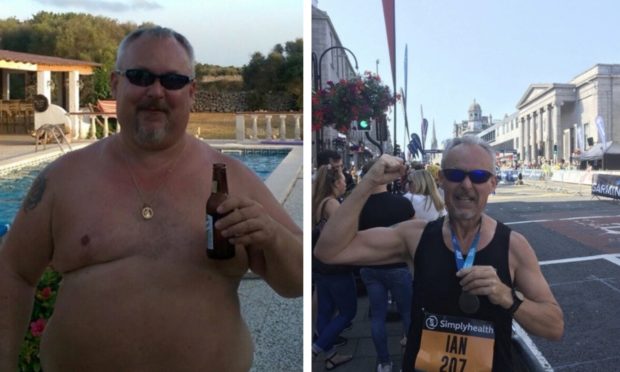 A morbidly obese man who weighed more than 22 stone has lost nearly half his body weight in not much more than a year and reversed Type 2 diabetes after finding a passion for running.
Ian Atkinson, 48, lost 10 stone after being told his diet of around 5,000 calories a day would put him in hospital.
The dad of two was travelling for work and regularly eating fry-ups in service stations, but was given a reality check in September 2016 when he was diagnosed with Type 2 diabetes and dangerously high blood sugar levels.
Ian, from Brechin, feared he would not live to see 50. But, after losing nearly half his body weight, he now runs marathons in Scotland and abroad.
After imposing a strict diet, seeing a personal trainer and taking up running, Ian's diabetes is in remission, something doctors say is extremely rare.
In February 2018 he arranged a consultation with a personal trainer, without telling wife Charlie or children Jacob, 19, and Alyssa, 17.
"The first time I went to the gym it was a disaster, I felt like I was going to pass out," he said.
"But I carried on and everyone was really good and helpful; it made such a difference."
The PT got Ian keeping track of his calorie and nutritional intake and, with a mixture of a balanced diet and plenty of exercise, he has dropped from a size 48-50 inch waist to a 30 inch.
He also no longer needs to take medication and is in remission for his diabetes, meaning his blood sugar levels are back to normal.
In January last year Ian joined local running club the Brechin Road Runners, and now competes in marathons and goes running most days, up to 70km a week.
Ian said: "I started going to the gym to lose weight, and getting on the treadmill and doing cardio was a big part of that."
By March last year Ian hit his target of 12-and-a-half stone.
Instead of fried foods, crisps and cooked breakfasts, Ian now eats salads, low-fat yoghurt, brown rice, fresh fruit and vegetables, and drinks gin and slimline tonic instead of beer.
Before the coronavirus lockdown was brought in, the family had been planning to move to Spain to start a holiday home management company.