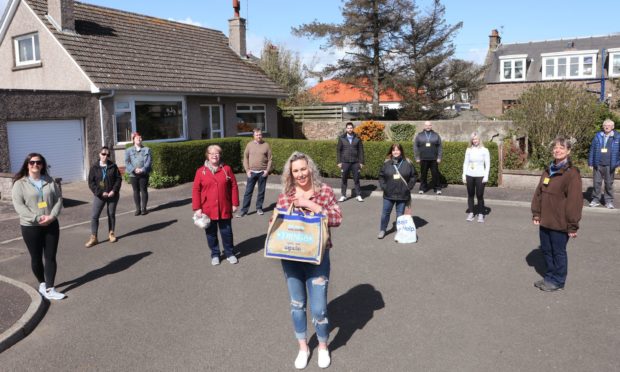 More than 800 people in Angus have signed up to help those who cannot leave their homes.
Voluntary Action Angus (VAA) has been recruiting volunteers since the launch of its "humanitarian hub" before lockdown, with the head of the organisation saying he has been humbled by the response.
VAA now has 835 volunteers, with another 278 waiting to be registered.
They have already helped almost 1,000 people who are self isolating by delivering food and other essentials.
The volunteers carry VAA branded badges for authentication, aware that scam artists have been trying to take advantage of vulnerable people during the health crisis.
Gary Malone, chief officer of the Forfar-based organisation, said: "The creation of the Humanitarian Angus Assistance Response Team means that for people who are being 'shielded' because of their own existing health conditions, we can provide a seven-day a week support, working alongside our council and health and social care partnership colleagues.
Kelly Christie: The Montrose woman who recovered from brain surgery and now helps people living under coronavirus lockdown
"This is partnership working at its finest and is the perfect example of the whole being greater than the sum of the parts. None of this could have achieved on our own, it's truly a magnificent partnership.
"For VAA, our amazing community response to this pandemic will underpin the depth and breadth of what it means to be part of the Angus-wide caring community for generations to come.
COMMENT: 'I don't know what I would do without them' – Hats off to the Angus volunteer army
"It's both humbling and pride-inducing to be part of this effort."
A key part of the work has been VAA's My Street Volunteering scheme, which was already in progress before coronavirus.
It allows people to help those living closest to them, as many already know each other, both to make recipients feel more comfortable and protect personal information.
Mr Malone is worried there are many people, some already living in poverty, who are not seeking help.
"One of our concerns is that people are too afraid, embarrassed or proud to come forward to ask for help when they need it. This can be really hard for people to do when they are used to be being resilient, self-sustaining and independent but please don't be."
VAA has also launched a crowdfunder, to help pay for the food being delivered, with more than £7,000 already raised.
Those in need of support can visit www.taysidecares.co.uk or call 03452 777 778
Donations can be made at
crowdfunder.co.uk/voluntary-action-angus-give-local—give-angus