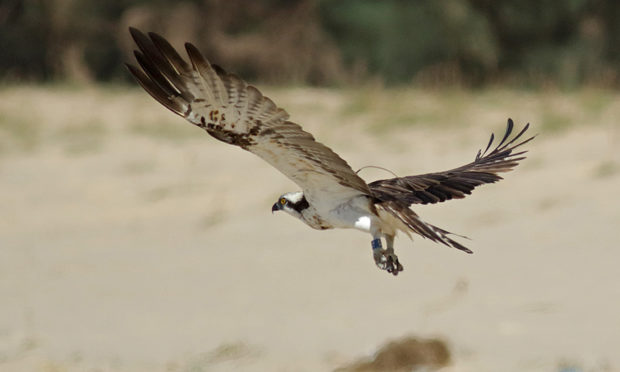 A shocked driver has been divebombed by an Angus osprey days after the bird's arrival from a continental migration to its Scots breeding ground.
Despite safely negotiating thousands of miles from wintering in north Africa, the bird almost came a cropper just hundreds of yards from its summer home at a nature reserve near Forfar.
It gave Alan Hattel a major fright after flying directly into his car, but the OAP's fear that the raptor might have come to harm in the encounter appears – for the moment – to be unfounded after the bird was later spotted on the nest with its mate.
Mr Hattel was on the Forfar to Arbroath road near the Scottish Wildlife Trust Balgavies Loch reserve when the bird flew straight into his path on Monday afternoon.
"It's a tricky bit of road so I wasn't going fast, but it appeared out of nowhere from a dip in a field and just smacked into the front of the car," said Alan.
"It rolled across the bonnet, up the windscreen and over the top of the car.
"I was shocked at the size of it – the wing covered the screen and I knew it was an osprey," he added.
"It was a big shock for me, but it would have been an even bigger shock for the osprey and that's what I was worried about.
"I didn't see it in my rear view mirror, but if it had suffered a broken wing or anything then it could have gone into a field.
"These birds fly thousands of miles a year to get here and give so much enjoyment to people and I was so worried that something might have happened to it which might upset the breeding."
Mr Hattel's worries have, for now, been allayed by reserve warden Jim Hughes, who saw the recently-arrived osprey pair after the event.
The island nest at Balgavies was the site of the first recorded Angus osprey chick in 2012.
Mr Hughes said: "The car park and hide remain closed and we would not want people breaking the rules by driving to the reserve, but people are still able to walk over from the village of Letham and go around the path.
"The male has been identified as KR3, which was last year's male, and the female is unringed, but I am hopeful it is the pair from 2019. They have been mating and I'd hope we will see more chicks this year," he said.
In 2016, a Virgin balloon got in trouble when it passed to close to the nest, sparking fears it had spooked the resident pair into abandoning their chicks.