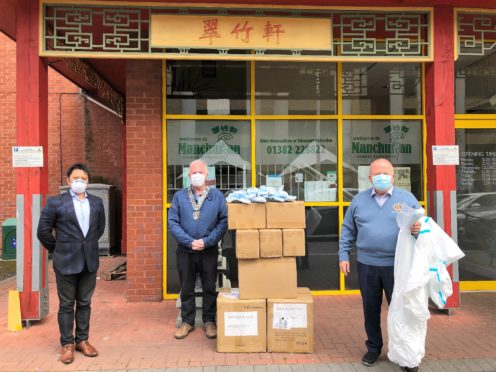 Forfar Rotary Club has received a vital PPE donation to help protect local volunteers and the vulnerable public.
The club's ongoing Covid-19 appeal received the donated of 7,000 face masks from David Lu, owner of the Manchurian restaurant in Dundee's Gellatly Street and president of the Fujian Scotland Chinese Association.
A donation of 20 protective overalls were also part of the handover by Mr Lu to
to Forfar Rotary president Doug McFarlane and Rotarian Dave Valentine.
Mr Lu said: "I am aware of the hard work being done by the Rotary Club in Forfar and hope this donation will boost their efforts to safeguard people from
the pandemic virus.
"Our Chinese homeland received considerable support and offers of assistance in January and we hope these masks will show our heartfelt appreciation and support".
Forfar Rotary Club began the initiative in early April when 10,000 masks were donated by a friend of Mr Valentine who runs a logistics company in Shanghai.
The club also recently received another 10,000 face masks from the Chinese Consul General, Ma Qiang on behalf of the Shandong Provincial Government.
That donation emerged as a result of the close links existing between Angus and Yantai, a city within Shandong.
Angus forged a sister agreement with Yantai, east of Beijing, more than two decades ago.
Club president Mr McFarlane said Rotarians were developing plans to provide continuing support to the local community in the weeks and months ahead."We are also hoping to add further measures to safeguard the wellbeing of our
citizens and those who will be looking to get back to work.
"This is not going to be a sprint but a marathon," he said.