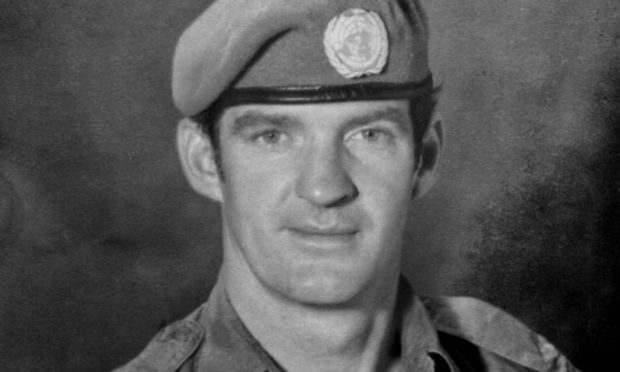 Villagers have lined the streets of an English village in honour of a former Angus Army Red Devil parachutist who fell victim to Covid-19.
Michael Kilcoyne grew up in the village of Charleston, near Glamis before joining the Army where he became a hugely respected figure and a highly-accomplished PT instructor.
The 76-year-old had lived for many years in the village of Whittington, Warwickshire whose residents turned out in force to remember the popular local. Military figures also paid their respects as the cortege carried Mike on his final journey.
Mr Kilcoyne's brother-in-law, Scott McDermott, from Dundee said his family had been humbled by the show of support from the village.
Mike was the fourth of six children born to Mick and Annie Kilcoyne, and was schooled at Glamis and Forfar before taking up a joinery apprenticeship.
He decided to join the Army and embarked on a lifelong military career during which he spent many years based at Paderborn in Germany and also served in Australia.
A keen sportsman he was selected for the Red Devils, the British Army's parachute display team, during his military service, rising to the rank of quartermaster sergeant instructor.
He had lived for many years in the Warwickshire village and was a founder member of its First Responder team.
At his funeral on Thursday, around 300 people lined the streets, with Army representatives outside his home and a bugler playing the Last Post in front of the village pub.
Paying tribute, Major Mark Woodward said: "Mick Kilcoyne, was without doubt a great corps man who served a full career in the army, then went on to run the local Cadet team within Whittington Barracks until he finally retired after some 40-plus years of military service in one form or another."
Mr Kilcoyne is survived by his son, Michael, daughter, Jacqueline and five grandchildren.
His brother-in-law, Mr McDermott said a touch of humour had brought light to the coronavirus tragedy which claimed the popular figure.
"The pub was decorated with a banner saying Last Man Standing. Mike had also lost part of his thumb in an accident when he was young and half thumbs-up emojis were also used to cover the outside of the building.
"It was a touch of humour which the family appreciated and I think showed how popular a figure he was there," he said.