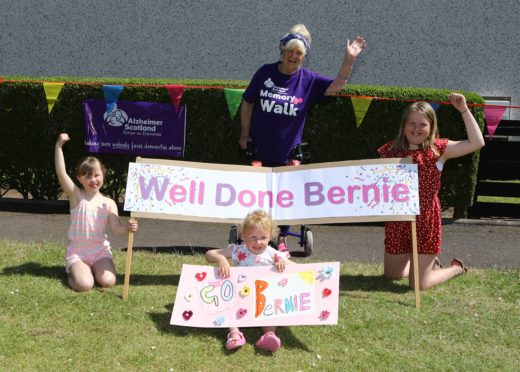 An octogenarian Angus great-gran has completed her own personal lockdown mission with a fundraising walk in support of Alzheimer Scotland.
Despite numerous ailments including COPD and limited mobility, partially-sighted 81-year-old Bernie Lingane has covered four laps of her back garden each day since the start of May to cross the finish line of her own 2.6 challenge.
With the sound of Helen Shapiro's hit song, Walking Back to Happiness, ringing in her ears daily, Bernie has also been cheered on by young neighbours Hannah and Amy Robbie during her daily loops at the rear of her Tarry Road home in Arbroath.
Bernie said: "The four laps of my small garden add up to my 2.6k in May.
"I sometimes haven't been able to do all four laps at once, but with the aid of my trusty wheels I have managed them all every day."
Her daughter, Janet Quantock, is the local administrator with Alzheimer Scotland and Bernie said she was inspired to take on the challenge to help the charity through the coronavirus crisis.
Bernie's late husband, Humphrey, who was well known as Arbroath Community Council chairman for almost two decades, had Alzheimer's disease and vascular dementia in the years before his death in 2018 and received support from the charity's Angus service.
"When I heard that Alzheimer Scotland was not getting anything like the usual amount of donations in this time of lockdown I thought I would do a little something to give back," she said.
"I know they do a great job and more and more people need their help"
She has more than doubled her £260 JustGiving target for the charity.
Daughter Janet said: "She's done remarkably well on her own, given her COPD and other difficulties.
"Some days she has only been able to do a couple of laps at a time, but has always gone back out to complete the four to make sure she managed the full challenge.
"She has also loved having Hannah and Amy's support and I think they have enjoyed being her cheerleaders," said Janet.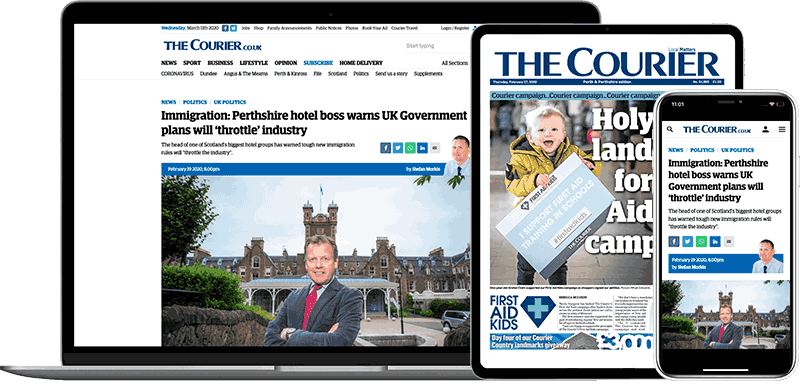 Help support quality local journalism … become a digital subscriber to The Courier
For as little as £5.99 a month you can access all of our content, including Premium articles.
Subscribe