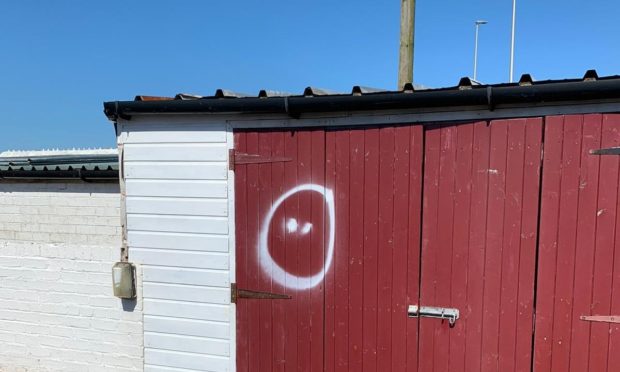 A pair of teenagers have been charged over alleged vandalism to Arbroath FC's Gayfield Park.
It follows a series of reported weekend graffiti incidents, including on the pitch and other parts of the Lichties' ground.
Police Scotland said the youths, aged 17 and 15, have been charged in connection with a number of reported vandalisms around the Gayfield and Keptie areas of the town.
Police had issued an appeal for CCTV footage and the public's help after two young males were chased away from the nearby Tutties Neuk pub at around 10pm on Saturday night.
The daughter of the pub's owner ran after two males in her slippers.
A Police Scotland spokesman said the matter will now be reported to the Youth Justice Assessor.
Arbroath FC officials said they have been inundated with offers of support from across Scotland.
A club spokesperson said: "We had direct messages from local skilled tradesmen and businesses offering their skills and trade free of charge to make the repairs and to help with security systems.
"Those offers kept coming, not just from Lichties but from all over Scotland.
"We always knew that we had a brilliant and supportive community and some of the best fans in Scotland, but the response has been again overwhelming with the kindness, togetherness and can-do-attitude really proving that we are all so resilient and we can get through everything together.
"Thank you all again, and we do hope to see you all back at Gayfield very soon."
The club has also now extended a 'buy-a-brick' project which has already generated more than £50,000.
The latest fundraiser is offering the chance for fans to buy a gold (£250), maroon (£100) or white (£50) brick to have their name on a supporters' wall at the park.
The vandalism happened just as officials were celebrating hitting their 500 brick target.
The scheme has so far raised £54,050 and will now be extended until Friday, with details available on the club's social media.