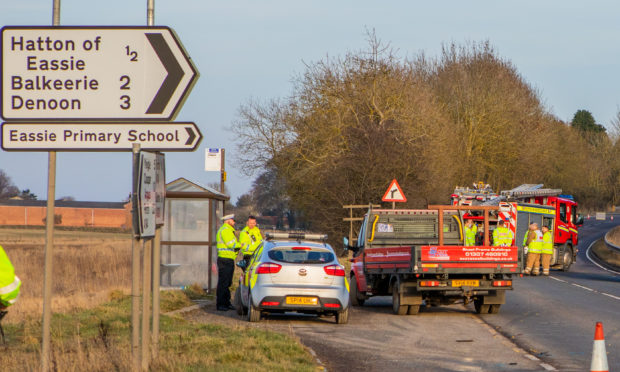 The widow of an Angus delivery driver who was killed instantly when his van was struck by a lorry has said her family will never be the same again.
Transit flatbed driver Steven Hall has admitted killing married father-of-two William Barclay, 68, from Brechin, by driving carelessly and crashing into him, causing his van to be thrown up into the air before somersaulting and landing on top of a car.
Dundee Sheriff Court heard that Hall ploughed into the side of Mr Barclay's van after failing to spot him approaching as the accused pulled out of a junction.
Hall, 59, of Alexander Rise, Glenrothes, admitted causing Mr Barclay's death by driving carelessly on the A94 Coupar Angus to Forfar road on February 15 last year.
He admitted failing to give way as he pulled out of the minor C21 road, close to where he worked for Scot-Steel Buildings Ltd, and driving into the path of Mr Barclay.
Depute fiscal John Adams said the victim was driving his work's Renault Kangoo van within the speed limit – at between 55-57 mph – and was blameless for the accident.
Mr Adams said Hall had somehow failed to spot the Mackie Motors van despite having more than eight seconds to see it on the main road as it neared the junction.
He said witness Marie Law was driving in her Volkswagen Polo in the opposite direction and saw Hall pull out of the junction and strike the side of Mr Barclay's van.
"The accused struck the offside of the deceased's vehicle, causing it to go broadside on the road, before it rolled and went airborne, somersaulting at least once and coming to rest on top of Miss Law's vehicle," said Mr Adams.
"The van roof was compacted towards the floor, trapping the deceased upside down in the driver's seat. Miss Law got out her passenger door and rang the emergency services.
"The fire service cut the door to allow ambulance crew access and it was immediately apparent he was dead."
Mr Adams told the court that the accused and Miss Law tested negative for alcohol and there were no defects on the vehicles which could have been blamed.
"The accident report concluded that it was the result of a failure by the accused to give way at a crossroads junction," he added.
"The Kangoo rotated out of control and overturned on to the westbound lane.
"The Transit driver would have had a clear and unobstructed view of the van approaching for about 8.32 seconds prior to reaching the junction.
"The driver failed to observe him despite a clear view being available. It's possible he may have been focusing more on traffic from the east.
"No blame can be attributed to the drivers of the Kangoo van or the Polo car."
Counsel Barry Smith, for Hall, said: "He is most anxious that I should express his severe regret that this accident caused such tragic consequences and to formally record his sincere condolences to the family of Mr Barclay."
Hall was banned from driving on an interim basis and Sheriff Alasdair Carmichael deferred sentence for the preparation of social background reports.
Mr Barclay's widow, Anne, said: "It happened and there is nothing we can do about it. He is such a big loss."
Her husband was a well-known and hugely popular figure in his hometown through both his work as a painter and decorator, and for his long-time involvement in local football circles.
He started the Brechin Boys under-11s side and continued his involvement in youth football until becoming part of the Brechin Vics junior set-up, holding roles including club secretary.
He retired from his business three years prior to his tragic death, and is survived by his wife, son Kevin, daughter Jacqueline and two grandsons.