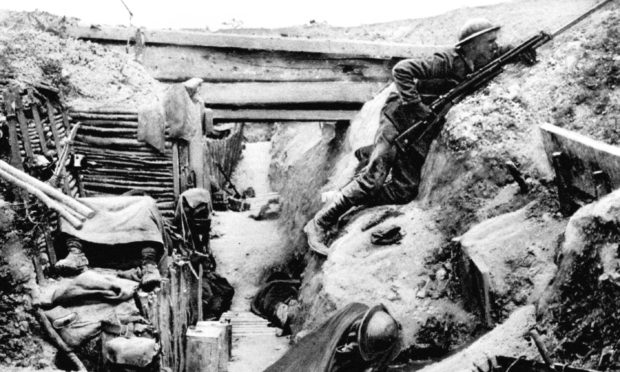 A unique set of gallantry medals awarded to an Angus sniper whose wartime scouting work was said to have had "no equal" is expected to fetch up to £12,000 at auction this week.
Lieutenant Colonel John Whammond, from Arbroath, was a member of the British army's first sniper unit, the elite Lovat Scout Sharpshooters, during World War I.
The former stableboy, who fought in the Boer War aged just 18, won a reputation for his bravery on the Western Front when he operated close to enemy positions, gathering intelligence on their strength and movements.
His set of 11 medals, including the Military Cross (MC), Distinguished Conduct Medal (DCM), and Military Medal (MM) won for conspicuous bravery, will be among the highlights of Dix Noonan Webb's sale of medals and militaria in London on Thursday, estimated at £8,000-12,000.
Mr Whammond, who fought in South Africa in 1901-02, enlisted into the Lovat's Scouts Yeomanry in 1916 as a sergeant in command of one of the newly-formed detachments known as "sharpshooters" on the Western Front.
When a battalion was ordered to raid the enemy trenches, the Lovats would make a reconnaissance of the enemy positions and report back with vital information.
Mr Whammond was awarded the MC in August 1917 "for conspicuous gallantry and devotion to duty in making a very daring personal reconnaissance of the enemy's wire under heavy shell fire, and sending in a valuable and accurate report".
His citation added: "His disregard for personal safety when engaged upon work of this nature has on all occasions been most noticeable."
Although he was promoted to officer, the Scot later resigned his commission to volunteer as a private during the British intervention in the Russian Civil War in 1919.
Distinguishing himself in action numerous times, he was one of only two soldiers to win the MM and DCM during the conflict.
Before the largest battle, his reconnaissance patrol was spotted and fired on. When the Scot failed to return from his mission it was thought he had been killed, but it was later recorded he appeared days later, "grubby and unshaven, but with a happy smile and a notebook full of the most wonderful information".
Mr Whammond won the DCM on September 7 1919 for "marked courage and determination" during an attack at Ivanovskaya in North Russia.
His citation noted: "With five men he attacked the enemy left flank, turned it, and drove towards Ivanovskaya. He captured with his party 25 of the enemy and two machine guns."
After fighting in Russia, he returned to South Africa and, serving with the Cape Mounted Police, won one of only 46 South African Meritorious Service Medals ever awarded.
He died in Pretoria on May 14 1941, aged 58.
Oliver Pepys, associate director and medal auctioneer at Dix Noonan Webb, said: "This is an outstanding and unique medal group – the only one to exist of this combination."