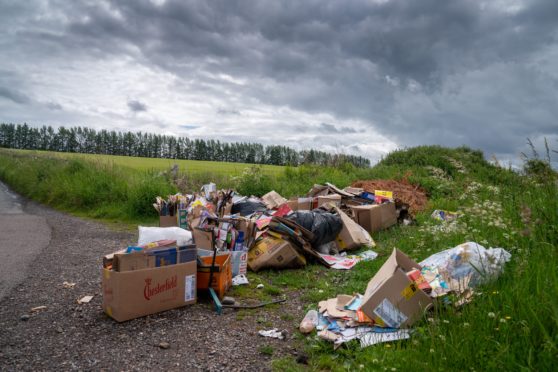 A driver who was paid £20 to remove rubbish from a Dundee takeaway left it dumped at the side of a country road some 15 miles away.
The mess left strewn across Bonnyton Road, between Auchterhouse and Newtyle, has angered locals.
Some items amongst the debris clearly identify businesses in the Strathmartine and Glens areas of the city, including an orange sign for Mediterranean takeaway Cous Cous.
The manager of the Strathmartine Road establishment declined to give his name when approached by The Courier, but he said he drove out to rural Angus and take back his rubbish when the problem was flagged up to him.
He said: "A man came into the shop maybe two or three times before asking if we have any rubbish and he could get rid of it, but I told him we were fine.
"However last week the collection wasn't done so we had a lot of rubbish, so I said to him: Okay. We paid him £20 to do it. He said he would take it to a proper skip or recycling centre."
The takeaway spokesman added: "I have a picture of him from our cameras and we are going to give that to the police.
"We won't do this again. With everything we try to do it 100% right, but this guy lied to us.
"A lot of people phoned on Saturday to tell us about it so I went up and took everything that was ours back."
One man who lives in Auchterhouse rushed to the scene when he saw images on social media. With a friend, he moved the rubbish to the side of the road to make it safer for cars to pass.
The man, who asked to remain anonymous because of a suspicion the people behind the flytipping are "not right and potentially nasty", said about 15 to 20 businesses were identifiable from the items.
He said: "It was strewn all over the road. It's a flytipping issue but it is also a road safety issue.
"My suspicion is that someone has gone round businesses in the area saying they will get rid of their rubbish for them.
"But whatever the reason, there is no excuse. It's really frustrating."
The man contacted the police, but said they "weren't interested" unless someone was caught in the act, but did take more notice when the road safety element was highlighted.
A Police Scotland spokeswoman confirmed they would only respond to reports of flytipping when it was actually happening rather than after the fact. She added that flytipping is "predominately" a local authority issue, but councils will sometimes report cases to the police.
It is unclear if there is a police investigation into the incident as the spokeswoman said it was "impossible" to check without knowing when it was reported.
Angus Council could not be reached over the weekend.
But Beth Whiteside, councillor for the area, said a council worker had been out over the weekend to assess the mess.
She said: "It is really selfish behaviour. Some of these businesses are identifiable to the Dundee area, so it looks like someone has gone round and taken their rubbish and thinks it's okay to dump it in rural Angus, but it's not okay."
A mess had also been left at Dronley Wood over the weekend, with evidence of a party having taken place there.
Ms Whiteside added: "Anecdotally, there seems to be more flytipping going on at the moment. I would urge people to report any cases they come across."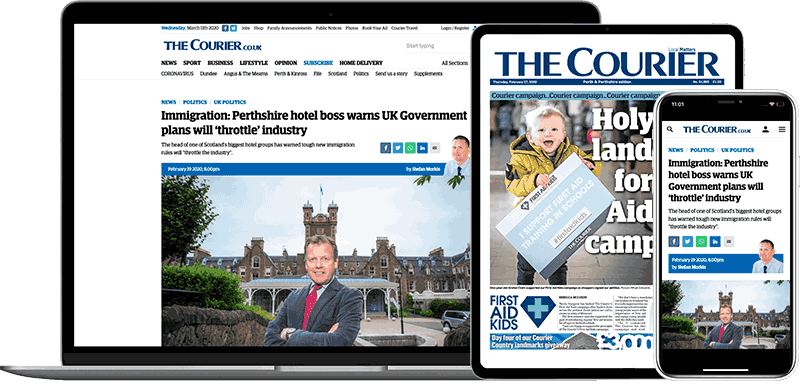 Help support quality local journalism … become a digital subscriber to The Courier
For as little as £5.99 a month you can access all of our content, including Premium articles.
Subscribe