Two men have bravely spoken of their escape from heroin hell and the role their strong Christian faith played in a recovery helped by an Angus church organisation which has supported hundreds of addicts.
Andy McDougall and Fraser Simpson started injecting heroin at just 15 and 14 respectively in a reaction of devastating family tragedies.
As their separate lives quickly spiralled out of the control, Andy, now 37, was brought back to life with a double dose of the opiod-blocking drug Naloxone when he effectively "died" in one overdose incident.
Fraser, 43, abandoned his girlfriend and two children in favour of heroin and had to have his hip removed due to a serious infection sparked by injecting the highly addictive drug into his groin.
Their lives were finally turned around after they separately sought help from the Havilah addiction support project, founded by newly-appointed Church of Scotland Moderator, the Rev. Dr Martin Fair at his St Andrew's Church in Arbroath.
Havilah staff and volunteers helped the men and referred them to a residential project in England run by Christian charity Betel UK.
The duo have now spoken openly in a harrowing but hopeful interview for an It's a Fair Question series with the Kirk Moderator, who set up Havilah in 2006 to support people living with addiction.
Arbroath man Mr Simpson's life took a turn for the worst when he was 14 after his older brother, Craig was killed in a motorbike accident.
"That shook the whole family up and no one knew how to deal with it and I got involved with a couple who were selling heroin and by the age of 14 I had my first injection," he recalled.
Within a year he was on a methadone prescription and the ravages of the drug on his body led to him losing his hip.
He recalled being in hospital, saying: "Lying in my bed I looked up at the ceiling and said 'God, if you are real, I need help here, let me keep my leg, I want to walk again'."
"Something changed inside me, something snapped and all of a sudden I was free and from that day forward I have had no desire to smoke a cigarette, drink alcohol or touch a drug.
"I was going out there with Christ, a new identity, with his spirit in me and from there a new identity was born."
Mr McDougall, from Glasgow, lost his father at the age of 12 and first tried heroin just three years' later.
"I ended up addicted and completely lost control – I was absolutely broken," he said.
He weighed just nine stone when he sought help at Havilah, which has now helped more than 1,000 people.
"It was Mother's Day 2014 and I remember being in the congregation and we sang Amazing Grace – my chains are gone and I have been set free," said Mr McDougall.
"I was baptised and I gave my life wholeheartedly to serve Jesus."
Both men now work for organisations supporting people living with addictions.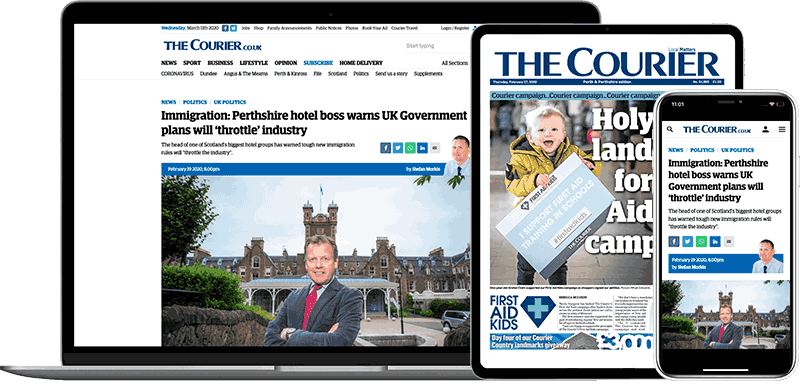 Help support quality local journalism … become a digital subscriber to The Courier
For as little as £5.99 a month you can access all of our content, including Premium articles.
Subscribe