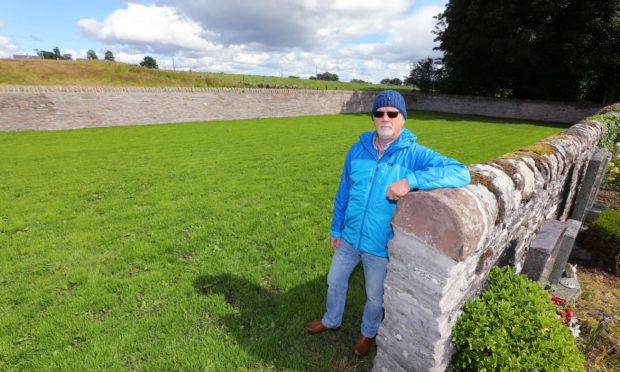 A long-awaited Angus village graveyard extension has finally been completed – but not without controversy.
The expansion of the cemetery at Aberlemno, between Forfar and Brechin, had been on the cards for around two decades, but was delayed due to a range of issues including acquisition of the land beside the village kirk.
Having also been hit by the coronavirus crisis, the project is now finally complete, but a former community councillor who resigned from the body over the project branded the scheme a 'catalogue of highly preventable mismanagement'.
Paul Duncan said he was angry the extension had taken so long to complete, and upset some villagers had been forced to bury their relatives elsewhere because the old Aberlemno graveyard was at capacity.
"We were told in 2002 there was no room and this has just been a disaster from the start," said Mr Duncan.
"It is double the original cost, the access is not good and they have put a water pipe through the extension which might be okay now but 20 or 30 years down the line could cause problems and we might be left with a situation where exhumations might have to be carried out, with all the distress that would cause.
"This is not what the community wanted or thought it was getting," he said.
Angus Council has rejected Mr Duncan's criticism of the scheme, but admitted revised plans had seen the project cost spiral.
A council spokesman said: "The lowest bid for the tendered work was £43,000 and, with approximately £3000 of associated landscaping work, is double the original estimated budget, which had been based on a smaller-scale project undertaken some years previously.
"It was recognised that the highly-skilled work of building with natural stone was a factor in this.
"No objections or complaints were received at any stage during the planning or building work process.
"The project was due for completion in January this year, but this was put back to March due to bad weather and then delayed again because of the Covid-19 pandemic response.
"Work re-started in line with the Scottish Government route map to recovery and is now complete in accordance with the plans. It includes a new water pipe that lies outwith the extension."
Aberlemno community council chairman, Tom Sampson said: "There is no doubt it would have been upsetting for families who would have wanted to see their loved one buried there but were unable for that to happen.
"I think we are just happy to now see it finished."