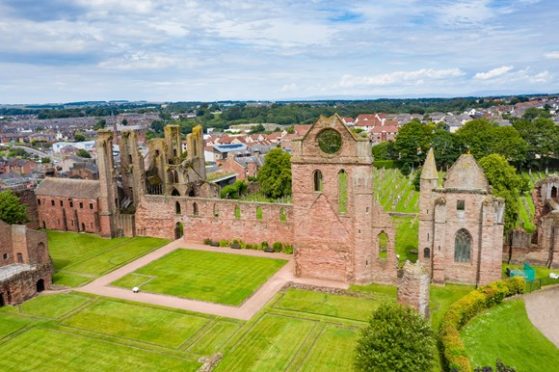 Remnants of a milestone year in Arbroath Abbey's history will be salvaged with the re-opening of the ancient attraction to visitors next month.
The Angus landmark is among a list of Historic Environment Scotland properties which will welcome visitors again from August through to mid-September.
It will include the unlocking of gates at Edinburgh and Stirling Castles from the beginning of next month.
The red sandstone abbey had been set to enjoy global attention for the 700th anniversary of the signing of the Declaration of Arbroath before the global pandemic wiped out a programme of celebration, including a pageant procession of hundreds from through the town centre to the harbour in a recreation of the historic document's departure for Avignon.
In April, the Arbroath 2020 committee, and partners VisitScotland and HES, announced it had taken the "difficult" decision to postpone the core programme of commemorations until next year.
HES has now set out the phased approach to reopening 70% of its free-to-access and ticketed properties by mid-September – all of them having been locked down since March 18.
It will include access to more than 200 unstaffed and key-keeper sites across Scotland from Wednesday where physical distancing can be readily maintained.
A further 26 ticketed sites across Scotland will then re-open on a rolling basis, starting with Edinburgh Castle, Stirling Castle and Urquhart Castle on August 1.
The heritage body said visitors, including members, will be required to pre-book tickets online and to use contactless payment where possible.
One-way systems will be implemented in some locations and parts of some attractions will stay closed off.
HES has said it will not re-open around 40 season sites which usually run from April to October.
Chief executive Alex Paterson said: "At the forefront of our planning is the safety of our staff and visitors, whilst being able to reopen for the tourist season by gradually enabling safe access to our properties and facilities in line with Scottish Government guidance.
"There will of course be some initial changes including managing visitor numbers at certain sites, as well as restricting access to specific locations, but we can assure visitors of a warm welcome as always."