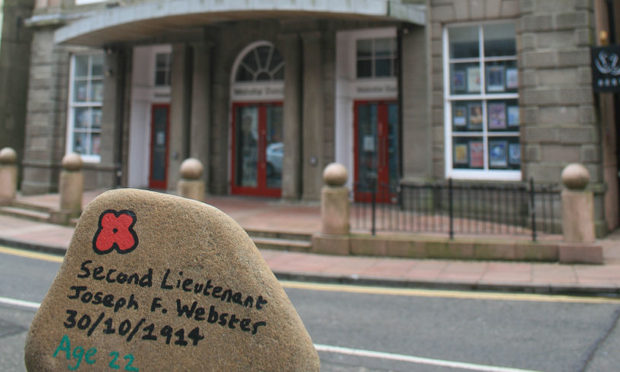 A solitary stone tribute has been placed on an Angus street in honour of a town son whose name continues to strike a chord with music and theatre fans more than a century on from his ultimate sacrifice.
While lockdown stone 'caterpillars' have been created in communities across the country, initially inspired by the heroes of the NHS for their work during the Covid-19 pandemic, the single Arbroath item is a memorial to a soldier son of the town.
Bearing a painted poppy, the small stone includes an inscription honouring Joseph F Webster and has been placed in front of the memorial theatre on Arbroath High Street which bears the family name.
The building was gifted to the then town council by Sir Francis Webster and his brothers, William and James
Sir Francis, of Ashbrook House, was a successful textiles industrialist and sail cloth maker. Joseph Webster was his son and, on October 30 1914 became the first former pupil of Arbroath High School to die in the First World War.
Webster Jnr had been at Cambridge University when he enlisted in the 60th Rifles, later transferring to the Black Watch.
After a few weeks training he was ordered to France and was killed in action at Zandvoorde Ridge. The body of the 22-year-old was never recovered and his name is marked on the Menin Gate Memorial at Ypres.
A portrait of Lieutenant Webster hangs inside the theatre's Assembly Hall.
Altered to provide theatre and arts facilities in 1970, the premises underwent a multi-million pound refurbishment in 2008.
It is the annual venue for Arbroath's long-running music festival and Angus Alive bosses are currently awaiting the easing of lockdown restrictions to allow a programme of shows and events to resume there.
Communities across Courier country have created stone caterpillars since the pandemic broke and there are plans to make some permanent.
Another has sprung up at Arbroath's Keptie Pond, with numerous painted stones celebrating loved ones and organisations including the NHS and emergency services.
In the nearby village of Auchmithie, villagers and visitors created a large heart filled with more than 2,300 heart-shaped stones as a tribute to Scotland's Covid-19 victims.