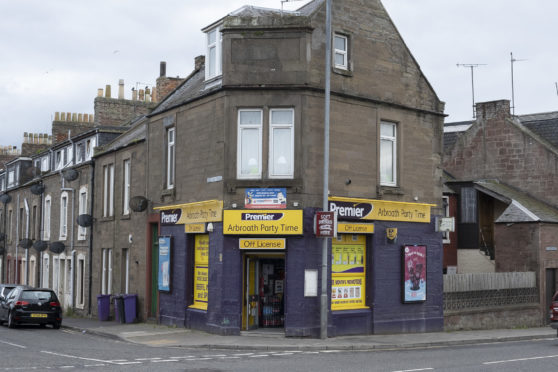 Calls have been made for stricter laws around the sale of "popper" sexual stimulants following the death of an Angus woman who drank a bottle.
The XL Gold product, marketed as a room odouriser, cleaning product and sexual enhancement liquid, was sold legally and marked as "not for human consumption".
But Adele Parker, 51, from Arbroath, died in May after drinking a bottle of it purchased from Party Time off licence in the town.
XL Gold contains isopropyl nitrate, an ingredient found in poppers, a liquid drug which gives an instant high when inhaled.
Woman dies after drinking 'sexual stimulant' liquid bought from Arbroath shop for £3.99
Police had asked Angus Council's licensing board to review the premises licence for Party Time and the personal licence of owner Mohammed Naseem, claiming bottles of XL Gold had been displayed beside alcohol and the man who bought two bottles, one of which was given to Ms Parker, had asked for shots.
But at an online board meeting on Thursday, which Ms Parker's mother virtually attended, solicitor Janet Hood said Mr Naseem had no control over how the product was used after it was sold.
"A shopkeeper would not know what a purchaser was assuming when purchasing a legitimately sold item," she said.
"My client did sell the item but he could have had no idea whatsoever what the purchaser intended to do.
"This was a tragic accident which occurred in a private house over which my client had no control.
"He couldn't have guessed what was in the purchaser's mind. He was not selling the product as alcohol and the product is clearly marked.
"We offer our condolences."
Ms Hood acknowledged that the product is sometimes inhaled as poppers but said that was not how it was advertised at Party Time.
"There is an illegal method for taking this, I believe it is called poppers.
"The product is legal, the fact there is illegal mechanisms for using the product, has nothing to do with this inquiry."
Councillors unanimously agreed not to review the licences, sending condolences to Ms Parker's family and friends, but deciding it was not breach of licensing law.
But Arbroath SNP councillor Alex King questioned the morals of selling the product and called for stricter laws around it.
He said: "The product is legal.
"I see them referred to as cleaning products or room odourisers but mainly as sexual stimulants. On that basis, it's not something that should be sold anywhere other than a chemist.
"The fact someone drank them is tragic but at the end of the day the licence holder needs to have a long hard think about what he is selling and how he is selling it.
"It reminds me very much of the days several years ago when kids used to sniff glue. I do believe measures were brought into control the sale of glue. It's about time someone in government had a good, hard look at this and put some severe restrictions on it.
"It was a grave dereliction of moral duty, if not licensing law.
A Police Scotland spokesperson said: "There have been no arrests made in connection with this incident and enquiries remain ongoing at this time."
A report on the death has been submitted to the procurator fiscal.