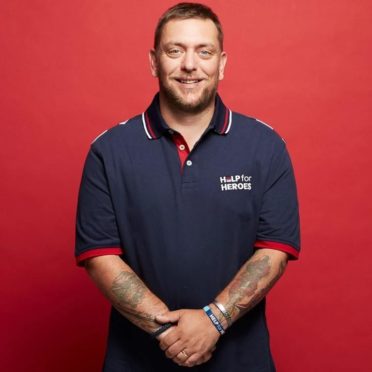 An Angus war veteran who uses sport to help his mental health is encouraging others to take part in exercise as part of a national campaign.
Matt Neve, from Brechin, said taking up archery played a major part in his recovery from post traumatic stress disorder (PTSD).
The 35-year-old was supported by Help for Heroes after serving in Iraq as an RAF driver at the age of 16.
He joined in 2001 but his career was cut short three years later when he was diagnosed with PTSD.
Matt sought help from the charity and was encouraged to take up a sport, going on to win a gold medal in the 2017 Invictus Games.
He is now taking part in the Help for Heroes Step 2 It campaign, in the hope it will raise cash for injured veterans, as well as encourage people to get active.
Matt, who now lives in Swansea, said: "Without Help for Heroes I wouldn't be here.
"Their Hidden Wounds support service is there to help veterans and their loved ones deal with the mental health struggles we face because of our experiences and injuries.
"They've supported my family and I though some dark times, and I'd encourage everyone to take part in Step 2 It so that other people can get that support when they need it too."
The challenge encourages participants to walk 10,000 steps each day for 30 days, supported by sponsors.
As coronavirus forced Help for Heroes to cancel most of its fundraising events, it is hoped the challenge will help plug a gap.
Hannah Lawton, sports recovery manager at Help for Heroes, said: "Sport and exercise are massively important for many of the sick and wounded veterans that we support, not just to help their physical wellbeing but to improve mental health.
"It can be a great way to re-motivate yourself after injury or illness and help you realise you can still do the things you love.
"Over the past few months, many people like Matt have found solace in exercising and keeping fit but like many of our veterans, there are also those who have felt demotivated because of concerns and worries caused by the coronavirus, even though we all know that exercise makes us feel better.
"Our hope is that Step 2 It will give people across Scotland a goal to work to, either to motivate them to get back into exercise, or a reason to keep up new habits formed. By taking this big step for themselves, they won't just be helping veterans, but will be doing themselves a favour too."
Sign up at Step2It.helpforheroes.org.uk