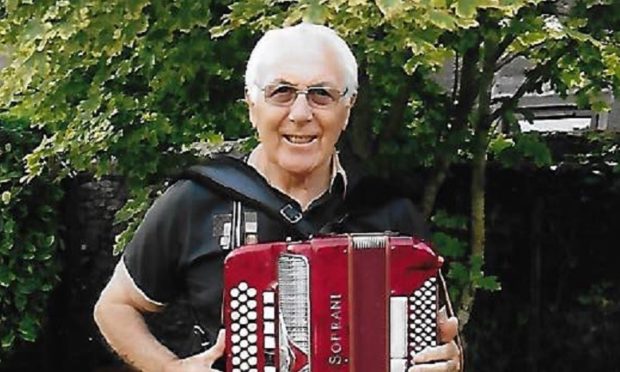 George Wishart, who moved from farming to found a prominent Angus coach firm, has died at the age of 87.
Originally from Perthshire, Mr Wishart was one of a family of three whose father was grieve on a farm near Blairgowrie, before taking the tenancy of Cowdens Farm, near Crieff in 1946.
The move coincided with George leaving school at the age 14 of and he was delighted to be working with his father on the 90-acre farm.
He also met, for the first time, his wife-to-be, Nan who lived on a neighbouring farm and passed a field on her way home from school where George was ploughing with two horses.
The teenagers became great friends before love blossomed and they were married in October 1955.
In 1962, following the death of Mr Wishart Snr, the couple family bought a house and 23 acres in the Carse of Gowrie, farming and rearing pigs, hens and Shetland collie puppies.
In 1965, George and Nan then moved to Angus after buying a farm at Carmyllie, near Arbroath and it was five years later when the move into the transport business developed after Wishart's Coach Hire was born when George took up the business opportunity of transporting pupils to the neighbouring school.
In 1984, the couple, who have four daughters, sold the farm and bought a garage, yard and house in the village of Friockheim and spent the next decade building up the successful business with school contracts, private hire and providing a local bus service.
They sold the business in the early 1990s and retired to the village of Letham, enjoying travel and spending time with their grandchildren.
The couple's strong community spirit saw them delivering 'meals on wheels' locally and they were committee members of Letham Pensioners' Club for several years.
George was also a keen member of the Arbroath Male Voice Choir and enjoyed Friockheim Probus club meetings.
He enjoyed a lifelong love of music, acquiring his first button-key accordion when he was 16 and was completely self-taught.
Rarely a day passed when he would not find time to enjoy a tune and was well known locally for entertaining in clubs and old folks homes, accompanied by Nan on the piano.
His other great passion was St Johnstone football club and he followed them avidly for more than 75 years.
He and Nan also enjoyed the outdoors and walked the West Highland Way, and despite the onset of Parkinson's disease he continued to enjoy a walk to Letham's historic Girdle Stane just outside the village.
Mr Wishart will be laid to rest at Letham cemetery on Tuesday.