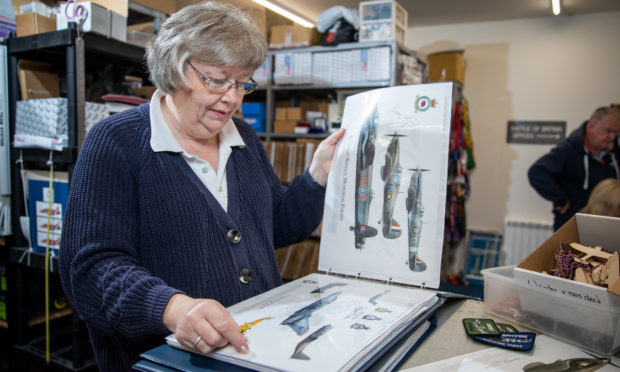 Michael Alexander speaks to air enthusiast and Arbroath businesswoman Gill Howie about the 80th anniversary of the Battle of Britain and the "huge loss" of the RAF Leuchars Airshow.
When decades of aviation history drew to a close at RAF Leuchars in September 2014 with the departure of the final fast jets ahead of the base's handover to the Army the following spring, Arbroath-based air enthusiast Gill Howie, who owns Squadron Prints Ltd, was not ashamed to admit that she cried.
Along with a gathering of fellow air enthusiasts, she watched as 10 jets attached to 1 (Fighter) Squadron set off for their new home at RAF Lossiemouth.
When the final aircraft took off low – flown by departing RAF Leuchars Station Commander and Air Officer Scotland, Air Commodore Gerry Mayhew – he waggled the aircraft's wings as it did so before doing a circuit over Guardbridge, heading out towards the sea before returning and shooting straight up – its afterburners roaring as it disappeared into the clouds.
There was then an overwhelming silence as the era of permanently stationed fast jets at Leuchars came to an end…
Unbelievably for some, it's almost 5.5 years since RAF Leuchars became 'Leuchars Station' with the former Leuchars-based Typhoons providing quick reaction alert (QRA) cover for the north of the UK from Moray instead.
With a new dawn coming in the form of the Royal Scots Dragoon Guards and other army personnel who made Leuchars their home from March 31, 2015, around 55 RAF personnel were retained to keep Leuchars' runway operational as a diversionary airfield.
However, with this weekend marking the 80th anniversary of Battle of Britain Day – the pivotal large-scale aerial battle won by the RAF that took place over south east England on September 15, 1940 – and with Battle of Britain Day weekend also traditionally hosting the popular RAF Leuchars airshow – which was held for the final time in September 2013 – the outstanding military aviation history associated with RAF Leuchars will not be far from Gill's mind.
Growing up in Arbroath, Aberdeen-born Gill was a regular visitor to Leuchars as a youngster.
She was fascinated by its humble beginnings as a pre-First World War balloon station, with RAF Leuchars growing throughout the Second World War and beyond to become one of the UK's foremost air defence stations.
It's exemplary record as the home of northern QRA stood as a testament to the professionalism and dedication of its people, and as a young woman, Gill would often "plane spot" from the end of the runway when she finished work every Wednesday afternoon.
For the past 20 years, however, Gill has been fortunate to work full time in the aviation industry through her ownership of Squadron Prints.
Since 1977, the company has been producing aircraft profile prints and lithographs for the world's greatest squadrons. Gill took over in 2000 and the business has continued to keep busy despite the coronavirus pandemic and lockdown.
However, as someone who admits she gets emotional at the slightest thing, Gill has also been reflecting during lockdown on what the RAF means to her.
She feels incredibly lucky that had it not been for the RAF, she would not have a business, a husband and a "bucket load of wonderful friends and extended family".
"My whole life has really revolved around Leuchars – not just the airshow but the station," Gill told The Courier.
"My dad, who was helped by the RAF Benevolent Fund, was an instrument engineer – he served at Montrose, Edzell, was in Mountain Rescue, and was out of the military before I was born. But I think that's where my interest in aviation came from.
"When I was working after school, on Wednesdays, I used to sit at the end of the runway – peering over the fence – or go to the airshow every September. That's how I used to get to know people like (former Station Commander, Air Commodore) Jack Haines.
"It was unusual for a girl to be hanging about with a camera watching planes in those days, so it caught a fair bit of attention."
Gill's love of aviation at Leuchars developed in to a worldwide passion for aircraft and that of the RAF.
She built up good friendships "inside the wire" and to this day keeps in touch with a number of former young Leuchars pilots – now more senior in their careers.
However, thanks to the RAF staging air shows, she also met her husband Berry Vissers – a former crew chief in the Royal Netherlands Air Force.
"The late Alan Carlaw and Dugald Cameron –a former professor at Glasgow School of Art – started it all off back in 1977," she said.
"They had been at Leuchars and down to the Royal Review – and had done a drawing by way of thank you for 43 squadron. They said they liked it so much could they get prints as gifts. It took off from there.
"My dad knew Alan, who was like an uncle to me, and wanted to retire in 2000. He wanted to sell the business.
"I've had it for 20 years now.
"After my dad passed away in 2001, I went to Waddington Airshow with my mum and met Berry, who was a crew chief on F-16s at the time.
"I met him in a pub in Lincoln. During the course of Waddington Airshow weekend, he was popping in and out of our stall as they were looking for somewhere to sell squadron memorabilia. We gave them a corner of our stall.
"It went from there. We kept in touch by email, met at airshows, and bob's your uncle!
"He became part of the business in 2003, and we've been at it ever since!"
The day to day business of Squadron Prints, which now also now employs Tom Gibbons (former Royal International Air Tattoo operations) and Shirley Strachan (mail order), comprises aviation art which gives squadrons and the public the chance to "have an airshow" on their wall.
However, a lot of business nowadays is actually embroidery of t-shirts, patches and military supply.
They help squadrons and pilots "badge up".
Berry, 51, who used to do a lot of aerial photography, focuses on the designs.
With a meticulous eye for detail honed by his time in the military, he will, for example, design new flying suit badges and tail insignia for squadrons.
"He's a graphic designer really but his detail is in the knowledge of the aircraft," said Gill.
"He's a complete spotter – photographer, number cruncher – the lot. He likes things to be right. He likes his artwork to be as factually correct as possible."
Thinking back to the annual Leuchars Airshow, Gill says it was a "massive loss without a doubt".
While incredibly hard work, they used to make more money that Saturday than any other event through the year.
However, having made the decision last year to stop doing remaining English airshows on grounds of hassle and cost, and of course not knowing at that time what 2020 would bring, they've been making the best of the Covid-19 world with demand for mail order sales on the rise.
"I think because of lockdown we've had the chance to reflect on how lucky we've been," she said.
"I suppose I do take it for granted but at the same time I've felt hugely privileged about some of the things we've been able to do.
"For example, the RAF 100 thing. Never in a million years did I think I'd be sitting in Westminster Abbey as part of RAF 100.
"To be there in amongst royalty walking down Horse Guards parade and to know that everyone in that flypast was wearing a patch and a t-shirt we had devised – that was hugely emotional!
"But equally I will never forget bringing the Red Arrows to Arbroath and seeing peoples' faces there, or bringing other aircraft to Perth for the Heart of Scotland Airshow."
While she's keen to ensure the history of RAF Leuchars is never forgotten, she's also proud of the association with the Battle of Britain and the role of 'The Few'.
"Without the role of the RAF in the Battle of Britain, we wouldn't be able to do what we do and enjoy," said Gill, who is the proud owner of a Battle of Britain Memorial Flight artwork signed by the late Vera Lynn.
"The sacrifices to keep our country free is long forgotten by some people.
"I've been very lucky meeting heroes from that time. I'm just hugely proud of what they did for us."