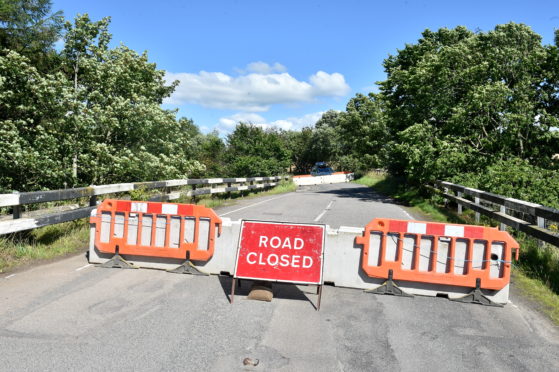 A crumbling 170-year-old railway bridge could stall progress on the long-awaited £24 million A90 junction upgrade at Laurencekirk.
Aberdeenshire Council is one of the objectors to the scheme to build a new flyover at the A937 crossing – the scene of numerous fatalities – because of uncertainty surrounding the nearby Oatyhill bridge, over the main east coast rail line.
Campaigners won their fight for a new junction with a funding announcement in 2016 but have become frustrated by the time taken to deliver the scheme.
It had been hoped the new junction would be in place by 2022 but there are fears a handful of objections could force a public inquiry.
Aberdeenshire Council has confirmed it has lodged a "technical objection" centred around Oatyhill bridge, which the authority closed just over two weeks ago following safety fears over its structural integrity.
It carries the unclassified U91K linking several properties to Laurencekirk and vehicles are banned for what the council said would be the "foreseeable future", with a diversion in place along the Dundee to Aberdeen dual carriageway.
Side road orders which form part of the scheme would see the closure of the existing Oatyhill junction onto the A90 but unless the railway bridge is re-opened to traffic, properties and farms would be marooned.
Aberdeenshire Council's head of transportation, Ewan Wallace, said: "With the implementation of the trunk road scheme as currently proposed, closure of the Oatyhill junction risked isolating properties if any form of future restriction was required – as now demonstrated following the emergency closure of the bridge.
"As a council, we are committed to seeing the Laurencekirk grade separated junction delivered in a timely way.
"We will continue to work with Transport Scotland and their consultants to develop options and work towards a solution which retains resilient long-term access for the properties identified at Oatyhill."
A Transport Scotland spokesperson said: "The Scottish Government is committed to completing the A90/A937 Laurencekirk junction improvement for the people of the north east as soon as possible.
"We received a number of objections to the proposals and continue to negotiate with objectors to try and resolve concerns where possible.
"These objections include one from Aberdeenshire Council in relation to the local road network. We continue to liaise positively with the council on their objection.
"However, should we be unsuccessful in removing all objections a public local inquiry may be required.
"If an inquiry is required, we are unable to say exactly what the timescale for the process may be as arrangements are made independently by the Department of Planning and Environmental Appeals."