Rain that battered Tayside and Fife was a 'once in 600 years' storm, says expert
Rain which battered the north-east has a "once in 600 years" likelihood of repeating.
At the peak of the storm, which started on Tuesday night and continued into Wednesday morning, 65mm of rain was recorded in just two hours at Stonehaven.
Meteorologists say such heavy rainfall has a "return period" estimate of 600 years.
In Perth, 41mm of rainfall was recorded in a single hour.
Andrew Black, geography lecturer at Dundee University, stressed this relates to averages and does not mean it will definitely be another six centuries before similar extreme weather.
Three dead and six in hospital as train derailment sparks major emergency response near Stonehaven
He said: "I have been particularly struck by Stonehaven and I would expect there to be significant flooding problems there.
"Meteorologists can undertake return period assessments to get an idea of how rare rainfall like this is.
"We have to be careful with this assessment because it does not mean it will not happen again in the next 100 years or 600 years.
"It relates to probabilities and the likelihood of such heavy rainfall in that time period."
Dr Black studied overnight rainfall data from Scottish Environment Protection Agency (Sepa) and said Perthshire, Clackmannanshire and swathes of Fife were the worst affected areas, as well as Stonehaven.
But as much of the east coast was battered, Dundee avoided the worst of the storm.
"The rainfall has been very uneven. Some places have had huge amounts and others not so much.
"It's noticeable that the weather system which seems to have caused this storm was quite slow moving, it took more than 12 hours to get across Scotland.
"Some places will have been badly affected because the intense falls of rain were moving quite slowly."
As a hydrologist, focusing on water, Dr Black is not an expert on lightning but he was shocked by the length of last night's storm.
He said: "I thought it was unusual for the thunder and lightning to go on for so long.
"As an individual I can't remember the last time an episode of thunder and lightning went on for so long."
Dr Black said the recent humid weather and heat energy was the likely cause of the storm and although climate change is not not blame for last night's weather specifically, similar storms may become more common in future.
He added: "As the atmosphere as a whole is warmed, it has more heat energy, and so it is capable of carrying more moisture, like we saw overnight.
"The heavy rainfalls observed across Courier Country last night have not been caused by climate change, but climate change does mean such occurrences are likely to happen more often in the future than previously."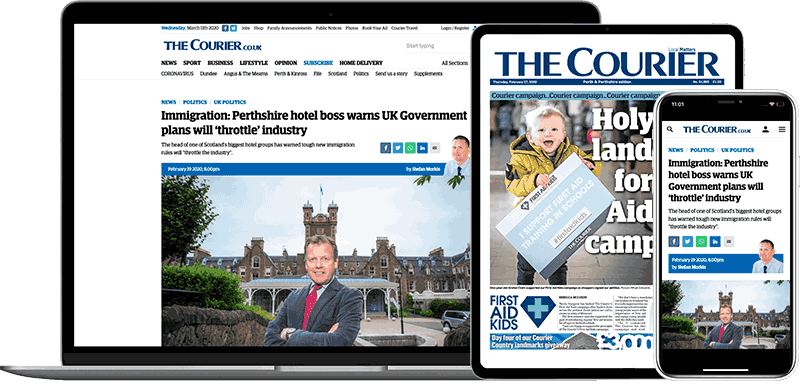 Help support quality local journalism … become a digital subscriber to The Courier
For as little as £5.99 a month you can access all of our content, including Premium articles.
Subscribe