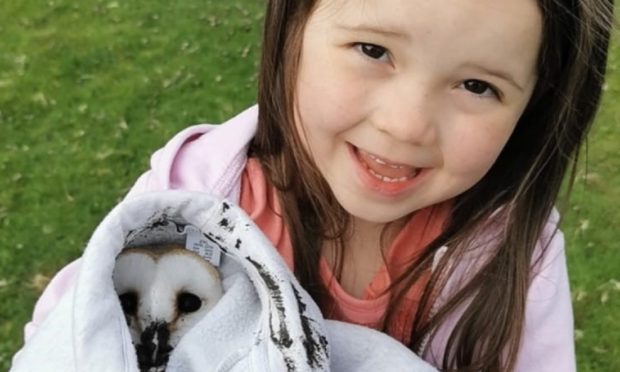 A rare barn owl has been saved from an untimely sticky end on an Angus glen.
The bird was found, flapping in thick mud, by a family of hillwalkers but their quick-thinking saw it freed and it is back in the air after a clean-up and care at the hands of a local gamekeeper.
Lauren Moir, her daughter Layla and partner Dale Dunbar were out in Glen Esk when they came upon the distressed bird.
Hot summer weather had caused the watercourse to dry up, leaving a circle of thick, deep mud which had trapped the curious owl as it had hunted for prey.
Dale managed to free it with a branch and the stunned bird, with its feathers caked in mud, was collected by Invermark estate head keeper, who took it home for a clean-up.
Named Rowan by its rescuers, Garry followed the advice of a local falconer to bathe the owl gently in a kitchen sink, freeing the mud, which had made movement difficult.
After a warm overnight stay in a box and a meal of rabbit leg, Layla was called on the following day to help with the release of the barn owl, near the spot where it was found.
Barn owls are schedule one birds and fully protected all year round.
There are only 4,000 pairs in the UK and without timely assistance it is likely Rowan would have starved to death.
Lauren said: "When we first spied the owl, we knew we had to get it out.
"I started to pile stones to get closer but the mud was quite deep. I piled about four or five stones on top of each other so we could get as close to the bird as possible.
"Dale managed to hook the owl out of the mud with a stick from the woods. The whole thing took about 45 minutes."
She added: "It was great to see Rowan get released and we are happy to know we probably saved its life. It was a really positive experience for my daughter Layla and her friend, Pyper to see it flying away again."
Gamekeeper Garry said: "We have four breeding pairs of barn owls on the estate.
"They are majestic birds and I love to watch them hunting at night. I was happy to help Rowan recover from otherwise a horrible death."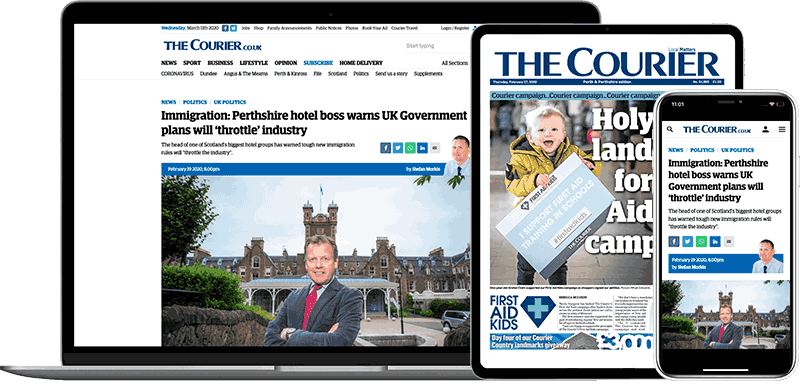 Help support quality local journalism … become a digital subscriber to The Courier
For as little as £5.99 a month you can access all of our content, including Premium articles.
Subscribe