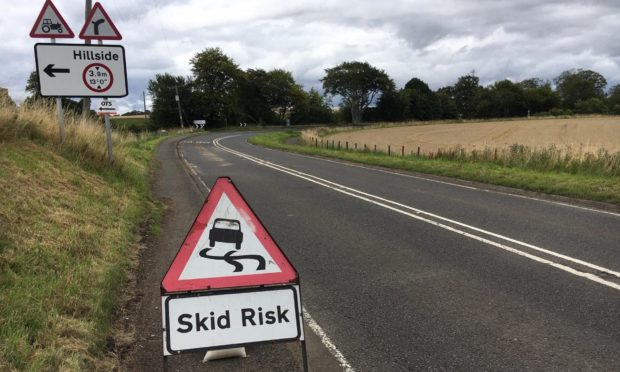 A man has died after a crash involving the load from a lorry outside Montrose.
The accident happened on the A92 immediately before the Hillside turn off, near the Kinnaber Viaduct across the River North Esk.
Police said the 53-year-old driver of a Kia Picanto car was pronounced dead at the scene.
Officers are appealing for anyone who was in the area at the time to come forward and help to determine what happened.
The road was closed for around 10 hours on Saturday while accident investigators inspected the scene.
Neighbours reported hearing a long bang before rushing to call emergency services.
The exact circumstances of the tragedy are still unclear.
A police spokesman said: "Emergency services were called to the area after a lorry's load collided with a Kia Picanto car."
The car's female passenger was taken to Ninewells Hospital with serious, but not life-threatening injuries.
The crash happened on a narrow stretch of road before a sharp right hand turn.
One woman, who lives nearby, said that traffic immediately backed up on the A92 on both sides of river before police arrived and began to divert vehicles.
"It's horrible to think that somebody has died," she said.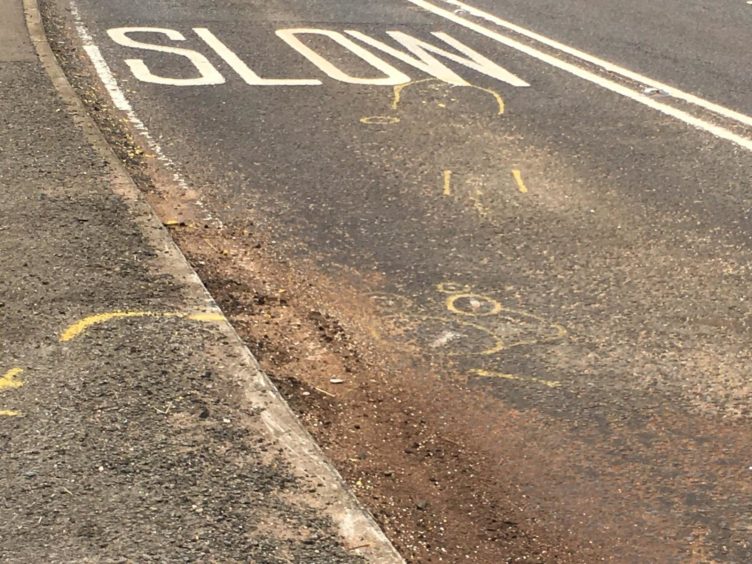 Another local said she had been nearby when the impact took place.
She said: "We went to straight to get help. You could hear right away from the noise that it was serious."
She said it quickly became clear someone has lost their lives in the incident.
"We don't know who it is, whether they are local or not. We're only thinking about the family," she added.
Sergeant John Learmonth, of Perth Road Policing Unit, said: "Our thoughts are with the deceased's family at this tragic time.
"The road was closed for approximately 10 hours yesterday as officers worked to establish the exact circumstances. A report will be submitted to the Procurator Fiscal."
Sergeant Learmonth called for any witnesses to events leading up to the incident to come forward.
He said: "Anyone who witnessed the crash take place, or saw either the lorry or Kia Picanto leading up to the incident, should contact police on 101, quoting incident 1712 of 22 August."
The road had been cleared and reopened by Sunday lunchtime with signs alerting motorists to a skid risk at the accident site.