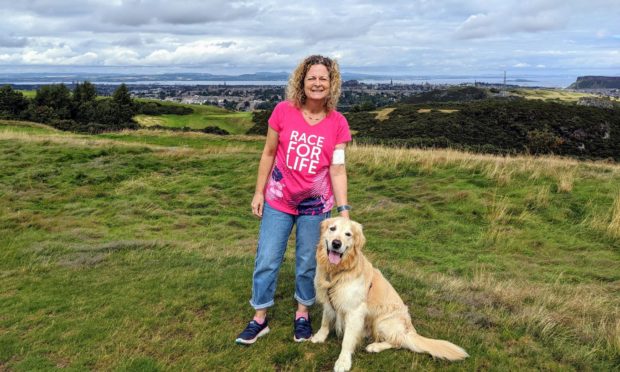 An Angus cancer patient who says the NHS gave her the best birthday present ever – lifesaving surgery – is inspiring people people to join a special Race for Life weekend later this month.
Former Arbroath Academy pupil Jillian Matthew was admitted to hospital for bowel cancer surgery on her 48th birthday during lockdown and hopes to mark the end of her treatment by taking part in the Cancer Research UK fundraiser.
The dog lover had to walk through the doors of the hospital alone as her husband was not allowed to join her due to Covid-19 restrictions.
Auditor Jillian, who now lives near Edinburgh's Braid Hills, said: "I spent the morning of my birthday on video calls to my parents, sister in Arbroath and best friend, which was quite emotional.
"I opened gifts with my husband Neil, took my dog, Hamish for a short walk and then we went to hospital. Neil gave me a big hug before we left home because I couldn't face a tearful farewell in the hospital car park.
"Walking through the doors of the hospital on my own was quite scary but I was so well looked after and the treatment I received was really the best birthday present ever," she said.
Jillian was diagnosed with bowel cancer in March after visiting her GP when she noticed changes to her bowel movements and passing blood.
She received an urgent colonoscopy test and was admitted to the private Spire Murrayfield Hospital, which was being used by the NHS during lockdown, on her birthday.
Jillian added: "The most stark thing my consultant said to me on the morning of my surgery when he was checking once again that I didn't have any symptoms of Covid-19 was 'you know if you did have it you probably wouldn't survive the surgery'."
She spent eight days in hospital before being allowed home and has recently completed her final round of chemotherapy.
"My husband Neil has been an absolute rock. In some ways all this has been harder on Neil and my family and close friends. They were all very worried about me," she said.
Jillian has fond memories of taking part in the Dundee Race for Life event in 2017 with her sister, Sara Whitton, and is encouraging others to join the Very 2020 Race for Life on September 26.
Cancer Research UK is braced for a staggering £160 million drop in income in the year ahead due to the pandemic's impact on fundraising events.
Jillian said: "Now that I have finished my treatment, and to say thank you for all the care and support I received, I want to take part to put something back.
"Even though I'll have to Race for Life differently in 2020, nothing is going to stop me raising money to help beat cancer.
A live broadcast on the Cancer Research UK Race for Life Facebook page at 9.30am on September 26th will include inspirational messages of support from people who have been through cancer.