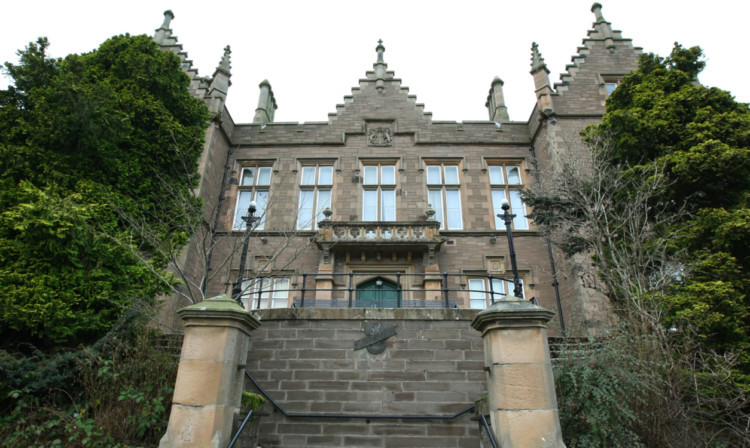 A "dangerous predator" who blackmailed young girls he found on social media into sending him naked pictures has been jailed.
Ashley Allen created phony online personas to find girls aged between 13 and 15 on Twitter, Instagram, KIK messenger and Snapchat.
He then made conversation with them before "badgering" them in to sending him naked pictures of themselves.
In one incident he blackmailed a girl into sending the images by sending a screenshot of their conversations to a girl from her school.
He then went on to send the topless picture she sent to another girl from her school – resulting in it being shared among her classmates until staff stepped in and contacted police.
A sheriff branded Allen a "dangerous, predatory individual", jailed him for two years seven months and placed him on the sex offenders register for life.
Forfar Sheriff Court was told Allen's offences spanned more than three years between 2012 and 2015.
The first girl he contacted was just 13 when Allen, posing as an 18-year-old from Edinburgh, added her on Twitter before convincing her to send naked pictures of her touching herself via KIK messenger.
His second victim, aged 15, was found on KIK messenger and using the name Ashley Adams he engaged her in daily conversation for two weeks before having her send around 40 sexual images of herself to him.
The third girl, aged 14, was contacted via Instagram where overweight, bearded Allen had set up an account where he posed as a muscular 15-year-old from Surrey.
They exchanged up to 500 messages a day via Blackberry Messenger where Allen claimed he "loved her".
They discussed meeting and having sex before he started requesting sexual images.
The girl initially refused because she "felt insecure" before eventually being coerced into sending around 20 or 30 images.
She was later talked into sending sexually explicit videos of herself.
Allen then moved on to one of the third victim's schoolmates – exchanging Snapchat messages.
He began threatening her until she sent him images before sending a screenshot of their conversation to a girl at her school.
Allen told her he would "spread rumours around her school" claiming she had lost her virginity and "was a tart".
He made threats that he would contact her 13 year old sister for two days until she sent him topless pictures.
Allen then sent the images to the third victim – who subsequently forwarded them to school friends.
They were shared round the school until teachers stepped in and contacted police in the West Mercia area of England.
They started a probe that established the images had been sent to a computer registered at Allen's address in Carnoustie, Angus.
On January 30 last year police raided his house and found Allen had locked himself in his room.
When they forced entry he was found hiding under a table.
When he was detained Allen said: "I've been speaking to a girl on Facebook. SHe told me she was over 18 then I found out she was under 16."
An examination of his computer equipment found he had 430 indecent images and 38 indecent videos of children on the devices.
Allen, 25, of Dundee Street, Carnoustie, pleaded guilty on indictment to four charges under the Sexual Offences (Scotland) Act and two of downloading and possessing indecent images of children.
Defence solicitor Sarah Russo said: "He lives with his brother and leads a fairly sheltered life.
"He fully accepts the charges to which he has pled guilty to and he accepts they were under the age of 16 at the relevant time."
Sheriff Gregor Murray jailed Allen for two years and seven months and placed him on the sex offenders' register indefinitely.
He said: "You effectively cut off communication once you got what you wanted.
"You showed detailed planning, subterfuge, went hunting for people on public sites then moved to private communications.
"You badgered some of the people involved and used threats almost to the point of blackmail. You are a dangerous, predatory individual."