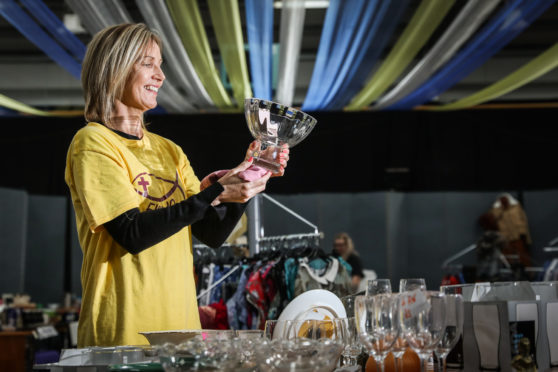 Covid clearouts are generating vital cash for a lifeline Angus kirk project.
What started as one Forfar churchgoer's efforts to make some space in her own wardrobe has become a bustling enterprise in the town's Strathmore Hall, where two community-led projects have taken up residence under the same roof.
Fiona Retalic began the initiative after her own ambition to free up some cupboard space took a turn in the opposite direction.
"While in lockdown I decided to have a clear-out of unwanted items cluttering up the house and wondered if many other people were doing the same thing," she said.
"It turned out I was right and when I asked a few friends to spread the word that I would accept donations, the floodgates opened.
"With a car boot or driveway sale out of the question, I asked a few friends to help me find a big space to effectively do justice to selling all the donations."
Lowson Church member Fiona was then contacted by friend and fellow parishioner Jeanette Gaul, who was using the Strathmore Hall as a base for the Angus Upcycling Project to recycle small pieces of good quality furniture donated by the public and give young volunteers hands-on experience in helping out.
Sales will boost the fund for the building of a new community hub attached to the Lowson kirk, ambitious plans for which were revealed last year.
The original church hall is home to existing projects including a free children's breakfast club, foodbank, mother and toddler group and a weekly lunch club which can draw around 80 people.
Fiona said: "This vibrant new facility is vital to the growing work the church does tackling social problems such as hunger, loneliness and wellbeing prevalent on our doorstep in the east end of the town.
"Aside from the obvious threat to physical health, the pandemic poses even greater problems socially in terms of people's mental health and wellbeing.
"With around a third of local households made up of those living alone and half of those aged over 65, a facility at hand to help tackle the growing problem of loneliness and anxiety is even more crucial.
"The planned hub would include a new hall, kitchen and serving area, toilets, office and meeting rooms and could make a huge difference to many people's lives.
"We opened the doors to our sale at the beginning of September, aiming to run for a month, and the donations still keep coming in.
"The generosity of people has been quite overwhelming and fantastic to see such positive acts of kindness in these very troubled times for everyone."