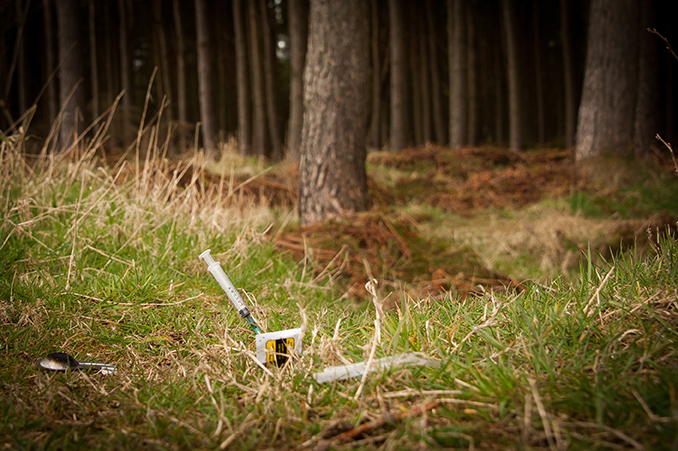 Drug users are blighting a popular wooded area in Angus which is well-used by dog walkers and children.
Burnt spoons, citric acid, discarded needles and used condoms have been discovered in Station Woods on the outskirts of Kirriemuir.
Children regularly use the woods between Kirrie and Glamis to catch their bus to school. It is also a popular spot for groups of organised walkers and bikers.
Kirrie resident Craig Cantwell said he has cleared away discarded needles on three separate occasions in the past six months.
He said the problem has been growing in the past two or three years and is urging people who use the route to be vigilant.
Mr Cantwell took images of the latest discovery of three needles which was removed quickly by Angus Council's rapid response team.
He said: "These woods are used by dozens of dog walkers and by families at the weekends who use the woods for mountain biking.
"There are regularly children using the woods as well as groups of organised walkers and bikers and local children stand right next to where the needles were left to catch their bus to school.
"I have lived nearby, walked my dogs and cycled there for almost 10 years, but in the last two or three years I have been finding used condoms and used, discarded needles which have been used by intravenous drug users.
"I am guessing that it is heroin as the burnt spoons and citric acid points toward this.
"In the last six months I have cleared away needles on three separate occasions and probably condoms slightly more than that along with the usual McDonald's rubbish and general litter that is tipped out of the culprits' vehicles.
"On this particular occasion I found three needles, one which had its cap put back on it and was obviously used, one which was sticking in the ground and had also been used and a third one which looked clean but had the tip of the needle exposed and wasn't in the ground.
"All of the items looked as if they had been used there and dumped – by that I mean they didn't look like they had just been thrown out of the window of a passing car."
He said it was a huge concern especially as some of these discarded needles could be infected with high level health risks that are easily transmittable.
A spokesman for Angus Council said anyone who finds a discarded syringe, used needle or other drug litter "should not touch it as they can carry a range of blood-borne viruses".
He said: "Call our ACCESSLine on 03452 777 778 and give the location so our rapid response team can collect and dispose of the items safely and as soon as possible.
"Out of hours and at weekends please contact Police Scotland on 101."
A Police Scotland spokeswoman said officers were now "giving the area passing attention".
She said: "Anyone who finds discarded drugs paraphernalia should contact the relevant local authority to arrange collection and safe disposal.
"Drugs and drug dealers affect the quality of life of people living in the community.
"Anyone who has information regarding drug misuse or dealing is asked to contact Police Scotland on 101."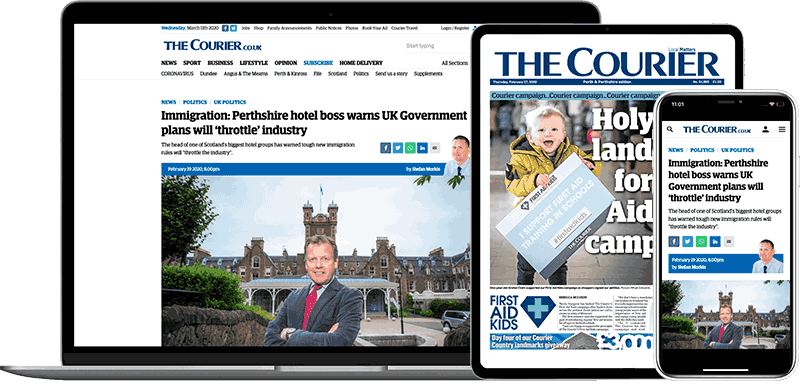 Help support quality local journalism … become a digital subscriber to The Courier
For as little as £5.99 a month you can access all of our content, including Premium articles.
Subscribe