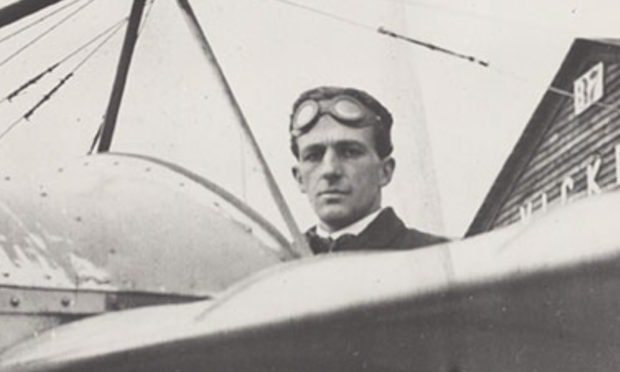 For more than a century, his spirit is said to have walked the site of Britain's first military air base where he was stationed when he plunged to his death from the Angus skies.
But despite his tragic place in Britain's aviation history, a published story of Lieutenant Desmond Arthur's life has remained as elusive as his Montrose apparition – until now.
Arthur's tale is considered one of the most famous ghost stories of the First World War after he became Scotland's first aircraft accident fatality in May 1913 at the controls of a BE2 aircraft.
In the decades which followed, and right up to modern times, the airman's ghost has reportedly appeared around the Broomfield station which was Britain's first operational air station after a brief stay for RAF No 2 squadron at farmland just south of the Angus town.
A replica of  Lt. Arthur's plane graces the Montrose Air Station Heritage Centre charting Montrose's place in RAF history, and was the setting for the weekend launch of a new book about Arthur penned by a local enthusiast.
Lieutenant Desmond Arthur RFC – The Life and Death of an Aviator has been written by Barry Dominic Graham as the first biography centred around one of the many famous figures stationed at Montrose.
Irishman Arthur was initially blamed – but later cleared – for the crash on the morning of May 27 1913 when the right wing of the 29-year-old's aircraft snapped off and it plummeted to the ground near Lunan.
The ghost story features reports of strange footsteps, apparitions in First World War flying gear and the sound of a phantom plane flying overhead, the last as recently as 2018 when a figure appeared in front of a young volunteer at the Angus attraction.
Mr Graham said: "My reasons for undertaking the biography were primarily due to my failure to find any actual publication regarding the life of Lt. Desmond Arthur. I was surprised that nothing seemed to exist in print, especially since there still remains such a great interest in his story.
"Secondly, and more importantly, I saw a possible avenue to perhaps help raise awareness and hopefully some funds for the wonderful Montrose Air Station Heritage Centre," he added.
"Knowing the centre chairman, Stuart Archibald, it seemed a perfect opportunity to contribute in some small way," said Mr Graham, who thanked the centre for its support in his research.
Mr Graham previously released a biography about the poet and lawyer, George Beattie of St Cyrus and Montrose, with his late cousin, John Molloy.
The son of County Clare who met his tragic end on the Angus coast
Born in County Clare, Desmond Lucius Studdert Arthur was a dashing young sportsman whose love of speed and thrills saw him win a number of motoring trials.
He became a Lieutenant in the Army Motor Reserve in 1908 and, two years' later, attended the first Irish Aviation Meeting at Leopardstown Racecourse where the desire to become a pilot was forged.
After completing his trials at Brooklands, he joined No. 2 Squadron of the Royal Flying Corps in April 1913, then based at Upper Dysart, near Montrose before its move a few miles north to the Broomfield home which would become its permanent base.
Arthur perished on the morning of May 27 1913 when a routine training flight from Upper Dysart to Lunan Bay went tragically wrong. He was found more than 150 yards from his crashed machine, having died instantly.
The circumstances sparked a major inquiry after an initial finding around a shoddy repair was overturned and the experienced airman blamed for his own demise due to dangerous flying.
A later investigation in 1916 reinstated Arthur's reputation finding that the crash was due to the damaged wing on BE2 biplane No. 205.
Reports of his ghost surfaced in the following years, but dropped away until the Second World War, when the Broomfield base was again the subject of haunting stories which have gone down in station folklore.
Arthur's personal story was revealed by his own diary,  confirming his love for Hartlepool ship owner's daughter, Miss Winsome Ropner, who he had visited and was frequently in company, though never alone together.
In his will he left her the bulk of his fortune, amounting to more than £1 million in modern money.
In 1918, Winsom married another RFC pilot – but never forgot her first love and named her first-born son Desmond.
Montrose Air Station Heritage Centre volunteers continue to maintain Arthur's grave in Sleepyhillock Cemetery, Montrose.