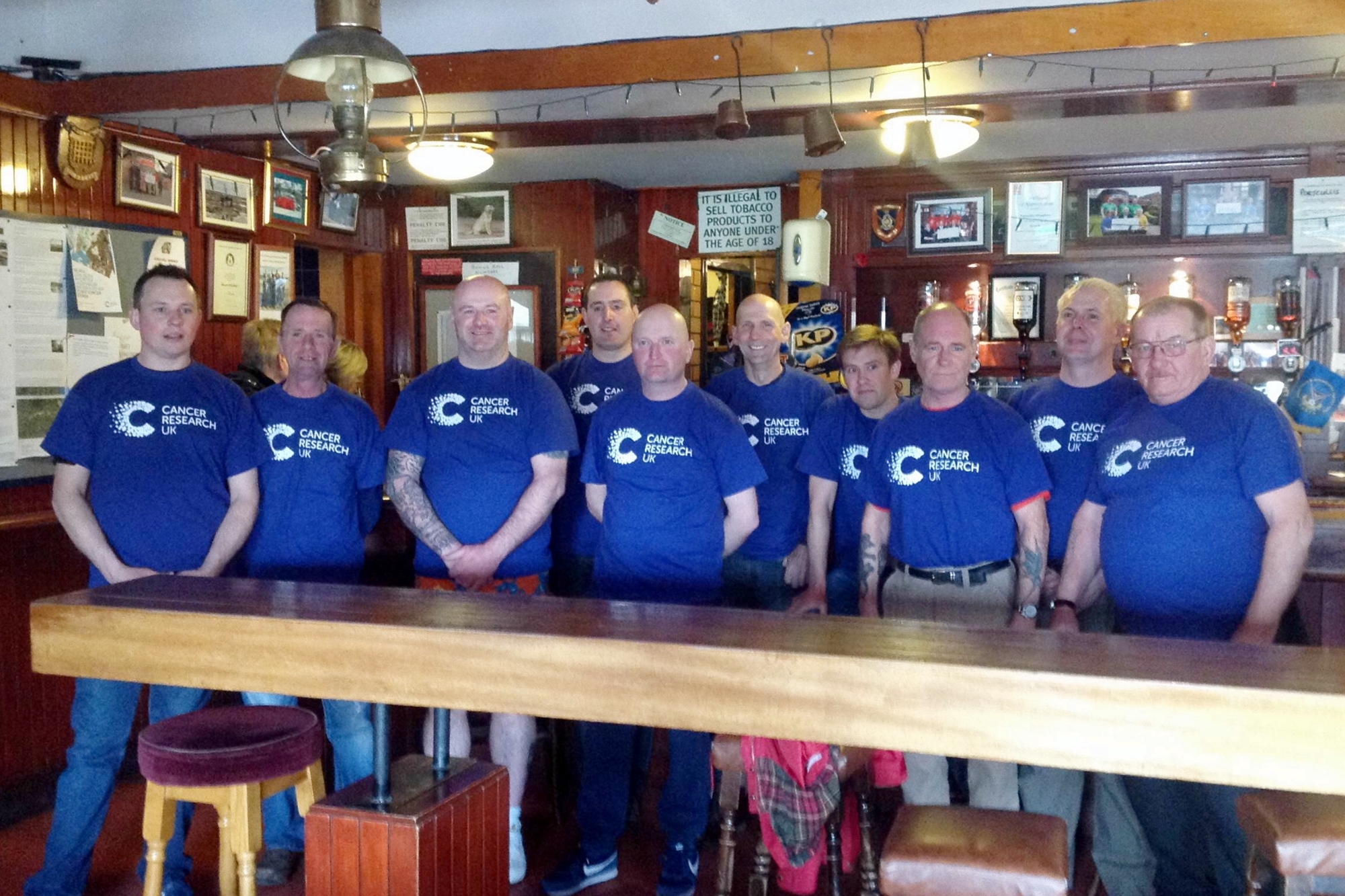 A group of Angus friends undertook a gruelling three-day charity walk along Hadrian's Wall in memory of a celebrated pub landlord at the weekend.
Former marine David Williams, known as George, was the landlord of the Portcullis in Arbroath with his wife Lorraine for 36 years.
The 67-year-old was diagnosed with cancer and died in 2014.
A group of his friends and regulars decided that they wanted to do something for his memory in aid of Cancer Research UK.
The group walked the length of Hadrian's Wall from Carlisle to Newcastle, beginning on Friday and ending on Sunday.
They had planned to undertake the walk last year but were forced to delay as one of the Conon Terrace group was diagnosed with the illness.
The walk was organised by George's friend, Don Newlands, and included Mr Williams' son, David.
Mr Williams was an enthusiastic hill walker who took part in The Great Outdoors challenges along with Mr Newlands and others.
Over the last 15-20 years they have raised many thousands of pounds for various charities with sponsored hill walks, ranging from Maggie's Cancer Care to Tayside Mountain Rescue and many others.
Mr Newlands' wife Joyce said: "With this in mind, Don and a group of friends thought it would be a fitting salute to a good friend to walk the length of Hadrian's Wall in his memory.
"It should be mentioned that whilst organising this event, Don has been fighting his own cancer battle.
"The walk was originally planned for September last year but he was diagnosed with prostate cancer so they had to postpone whilst he underwent an operation to remove his prostate."
Having rescheduled, Mr Newlands found that the cancer had returned and had to drop out of the rescheduled trek.
Born in Sunderland, Mr Williams picked up the nickname 'George' during his time with 45 Commando in Arbroath.
His colleagues gave him the nickname because he spoke with a Geordie accent.
Former Sugababes singer Heidi Range was among 400 mourners at Mr Williams' funeral on November 17 2014.
A close friend of his son Ross, a hairdresser in London, she made the journey to Arbroath to pay her respects at a service at Parkgrove Crematorium near Friockheim before a wake at "The Porty".
As the bulk of the fundraising has been done by sponsor forms, organisers say it is too early to tell how much has been raised.
They are still accepting online funds at http://www.justgiving.com/Donald-Newlands as well as donations at the pub.