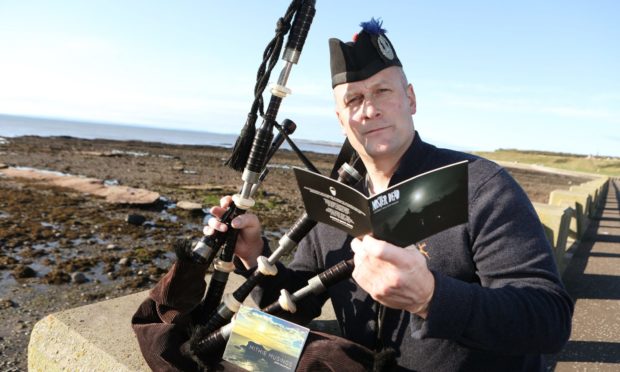 A piping poet has launched the latest additions to his collection of books based around a love affair with Arbroath.
Glasgow-based Johnny Gauld, known and the Caledonian Cowboy, developed his fondness for the Angus town and its surrounds after spending childhood holidays there.
He has since penned a variety of pieces about the area – including a six-verse ode to "Scotland's greatest fish supper", which he presented to Peppo's fish and chip shop at the harbour.
In 2018, Mr Gauld even walked the 111-miles from his home to buy a pair of famous Arbroath smokies as a birthday treat for his father.
He resorted to more traditional transport for his latest weekend return to launch the Mithie Musings collection of poems and songs and Mister Dead, Mister Dead, a book of dark poems timed for Hallowe'en.
"I have a love and fascination for Arbroath and the Angus coastline," said Johnny, who piped for visitors at Victoria Park and the harbour on Saturday.
"Mithie Musings was written while spending time in Auchmithie and it is a thank you to that cracking piece of coast and her great people."