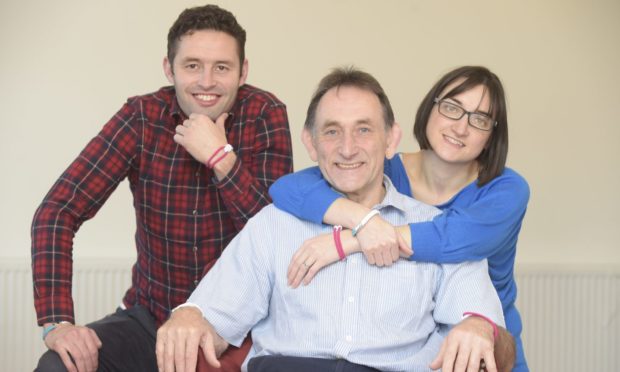 A Tayside dad who lost his wife to a rare genetic cancer which his children are now at risk of developing has received an award in recognition of his outstanding contribution towards life-saving research.
Jo Williamson from Auchterhouse, near Dundee, was recognised by Cancer Research UK, which presented him with the Uniting Communities award in its Flame of Hope ceremony.
The honour marks his unstinting support for the charity over more than two decades.
Retired wine buyer Jo's wife, Sue, died at the age of 57 on December 23 2003 after a 10-year fight against the rare pheyochromocytoma cancer.
The father-of-four previously raised £80,000 for Cancer Research UK through taking part in the Medoc Marathon through the French countryside, and has been a campaign's ambassador for the charity since 2016.
He now stars in the organisation's I Pledge UK-wide television campaign, a decade on from learning his children were at risk from contracting the disease which tragically claimed Sue's life.
Jo said: "Sue was a great family person and our children were absolutely the most important part of her life.
"I'm fortunate now to have seven grandchildren and I know how much Sue would have loved them too.
"If I have money left to leave in my will when I die then I'll leave that money to my four children and if you like, research in to cancer is my fifth child. I plan to divide everything into five.
"We've been fighting cancer as a family for a long time now and this is a powerful way to leave an incredible gift of hope."
In 2010 the family received the hammer blow news that the cancer Sue died from can be caused by a faulty gene, with a 50:50 chance their children would carry it.
While Jo's eldest children, Katie, 44, and Jonathan, 42, do not have the faulty gene his twins, Jennie Chinembiri and James Williamson, both 39, have inherited it.
James has had five benign tumours removed while Jennie has 29 tumours which are monitored closely.
In 2018, Jo founded the Phaeo and Para Cancer Charity which is helping to fund research in Hungary. Dundee University academics are also now working closely with the family in a research project which has used worms to try to unlock the secrets of the disease.
Jo said: I was amazed to even be nominated for a Flame of Hope award but to win is an honour. In the decades since I started supporting the charity I've seen huge leaps forward in life-saving research."
Jo, who was filmed hillwalking at dawn for the I Pledge campaign said: "It's a fantastic campaign which I'm proud to be a part of and feel very passionately about."
He was among 61 individuals and groups from across the UK recognised in the online awards event.
Cancer Research UK chief executive, Michelle Mitchell said: "The Flame of Hope awards give us the opportunity to celebrate and say thank you to our enormously generous volunteers and supporters for their fantastic work."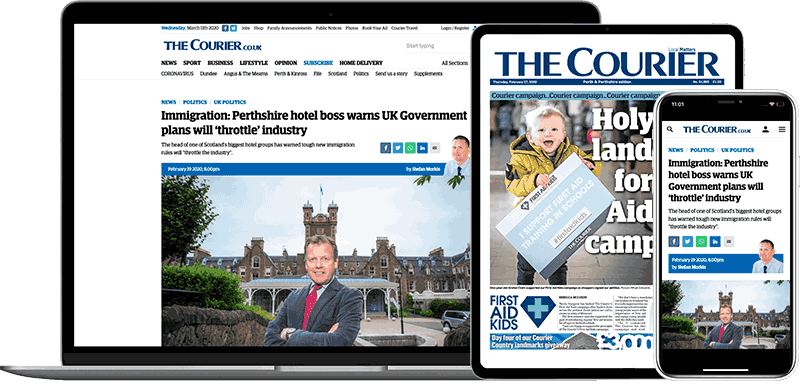 Help support quality local journalism … become a digital subscriber to The Courier
For as little as £5.99 a month you can access all of our content, including Premium articles.
Subscribe