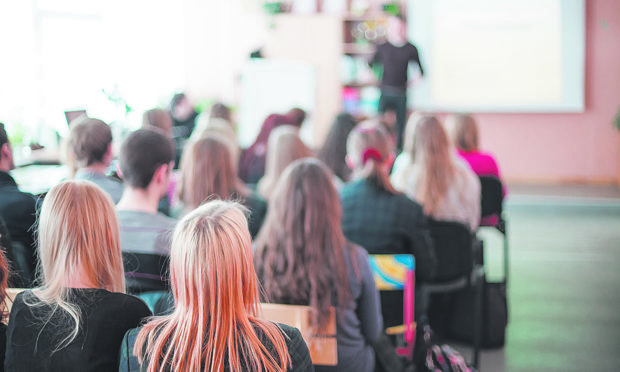 A spate of "deeply distressing" online abuse towards Angus teaching staff has become so severe that pupils have been thrown out of school.
Figures released by Angus Council show an upturn in physical and verbal assaults as well as a new trend in youngsters sending offensive and threatening  messages.
One primary school pupil and three secondary pupils have been temporarily excluded in the last four years for such behaviour.
Last year, a high school pupil was excluded for slandering a staff member online.
Two years earlier a teenager was caught stalking a teacher.
Angus Council said it has stringent policies on how to deal with misbehaviour.
The figures were released in response to a freedom of information request.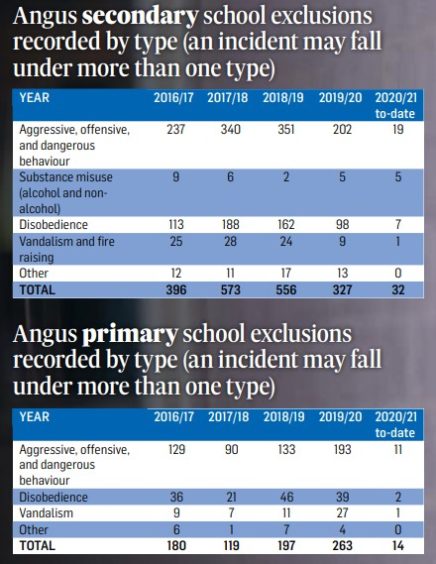 However, Patrick Roach, general secretary of UK-wide teachers' union NASUWT, said online abuse was on the rise everywhere and the impact on staff was damaging in a whole range of ways.
He said: "The frequency of teachers reporting that they are subject to abuse and harassment by pupils though social media and other technologies is deeply disturbing.
"The impact on teachers is misery, humiliation, ill health, loss of confidence and blighted careers."
He said NASUWT had campaigned on the issue for years.
"It is important that schools take this issue seriously and educate pupils on the impact that online abuse can have on its recipients," he said.
"Where incidents occur it is right that schools take a zero-tolerance policy to ensure the abuse of staff is addressed."
Unison Scotland, which represents support workers in schools, said more pupils were contacting staff inappropriately through social media.
Lorraine Thomson, who chairs the Education Issues Group for the union, said: "Certainly we know it's a common occurrence that teachers and staff are now subject to abuse through social media platforms.
"Schools need to have a policy to tackle it.
"It's an extremely stressful environment for staff in education. Nobody should go to their work feeling threatened.
"Classroom assistants actually provide the majority of support for children and they don't get adequate training or pay for doing so."
The majority of exclusions in recent years have been due to violent and aggressive behaviour with a significant increase in such incidents in primary schools.
Dozens of school pupils have also been barred from attending after attacking staff and fellow pupils using weapons such as chairs, pencils, and even plastic cutlery.
Items used in assaults have included water bottles, food items, toys, pencils, keys, lanyards and jotters and books, as well as sticks or stones.
In 2019/20 one incident was recorded in an Angus primary school involving the use of a plastic cutlery knife.
Various high-profile bullying incidents in Angus schools have also been reported.
In January this year, parents called for more action after a girl was filmed being dragged along a corridor by her hair inside Carnoustie High School.
A 14-year-old Forfar Academy pupil also needed hospital treatment after allegedly being attacked in the same month.
Ms Thomson, who has worked as an early years worker and family support worker, added: "The investigation into bad behaviour itself can be very stressful.
"Staff are asked to provide evidence and prove what happened and that isn't always easy.
"We want all pupils including those with additional support needs to access the school environment and reach their full potential.
"However, this becomes very difficult if they are not getting underlying support to make sure they can stay engaged.
"You need the right resources to meet the individual's needs. Rising physical violence is down to a lack of support both socially and within education."
An Angus Council spokesperson said: "The safety of our children, young people and staff is of paramount importance.
"There are a number of procedures and policies in place to support our schools in promoting safety, managing behaviour effectively, and minimising risk.
"These policies are agreed with our union representatives with whom there is regular dialogue to address any arising issues.
"Where there are incidences of aggression or violence, the following would be undertaken, as appropriate;
Incidence recorded on our system; where there is an injury, the appropriate Health and Safety form is completed
This data is used to identify trends and provide appropriate interventions and supports including risk assessments / environmental audits/ behaviour support plans etc
Training for staff on how to de-escalate situations and keep themselves and others safe
Debriefing and support for staff after incidents by their line managers
"Where there is malicious communication then our Electronic Communication, Social Media and Mobile Technologies policy and procedures are followed."