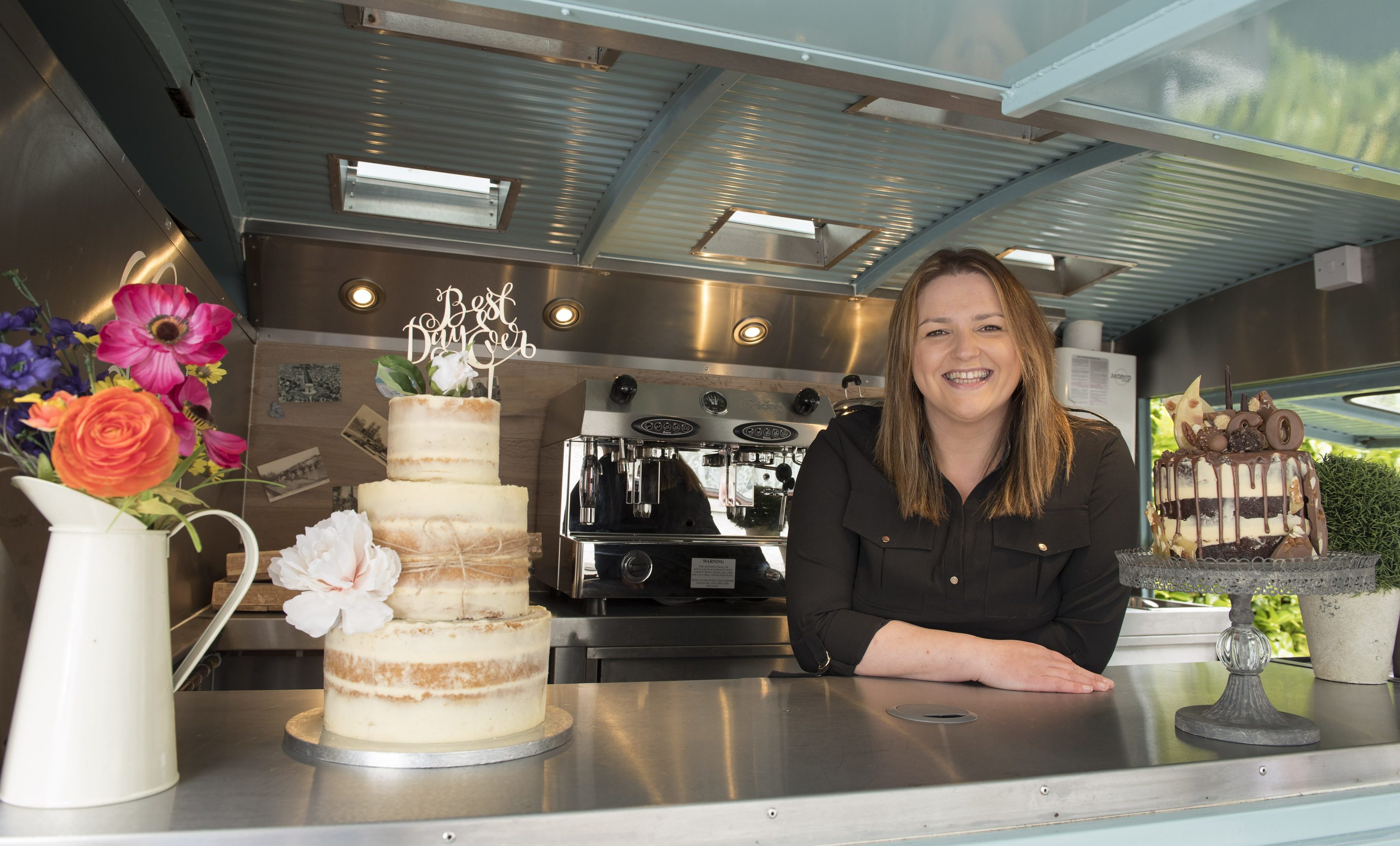 Michael Alexander meets Angus-based Ailsa Hayward who set up a vintage mobile tea room and patisserie after being made redundant.
When Dundee-born Ailsa Hayward was growing up on the Isle of Skye, she used to wake to the smell of fresh bread every morning courtesy of her Monifieth-raised father Bob Brown who worked on the island as a chef.
"My father was an amazing baker, "she recalls. "At school we had these really uncool lunch boxes. Everyone else had cool stuff in their lunchboxes. We had homemade bread with sesame seeds and tomatoes.  My parents, who worked in catering, were great like that. "
Ailsa, who is the granddaughter of the late well kent Monifieth butcher Bert Brown, always enjoyed baking at home, as did her late-mother Tina.
But it was only when the former Skye art gallery worker was based in Dubai with her financial technology manager husband Paul a few years ago that friends, impressed by her cakes, suggested that she should pursue baking full time.
So when she was made redundant from her job in the Middle East, and family reasons brought them back to the UK, Paul persuaded her to use her redundancy money to enrol at Le Cordon Bleu London where she studied patisserie, followed by a professional development course in artisan French bread making.
The experience fuelled her existing love of France – a country that the couple already enjoyed visiting anyway.
But it was when they spotted numerous abandoned and broken down 1970 Citroen H vans littering farms around rural Provence that she had the brainwave to have one of the vans restored and to make it the centre piece of a mobile artisan bakery business in the UK.
They arranged for two Bradford-based Citroen restorers to take one of the rusting vans home and, after a year of loving restoration, turned it into the immaculate mobile patisserie van 'Fleur' that Ailsa now operates from the couple's now home in Kirriemuir.
"We drive her from here to events within a 20 mile radius, but any further and we put her on a trailer," the 40-year-old explains.
"She has a massive amount of character. People love to hear her ticking over. She's a massive head turner and children love her – even just driving her around.  People think it's an ice cream van or circus coming to down,"she laughs. ". She always makes people smile. And always gets a wave!"
Ailsa is adamant that the van is a she – and Fleur was just a name she liked!
The van was originally blue and yellow but she has been restored in Nordic Blue. She was hand painted to make her as authentic as possible.
The interior has been fitted out with a sink, fridge, boiler, and a proper coffee machine serving Sacred Grounds coffee from the only coffee roaster in Angus.
Ailsa, who bakes in the kitchen of her house, sources flour and cocoa from France, and chocolate from Belgium.
But she tries to source other ingredients locally where possible. For example, eggs, milk, cream and butter come from North Street Dairy in Forfar, and berries come from local farms.
She adds: "We are mostly a mobile patisserie. If we are doing a wedding for example we have a little champagne bar in the back where I can serve canopies or cocktails.
"We also do teas, coffees and cakes at events. We've done Highland Games, music events, country fairs and antique fairs."
Ailsa's most popular cake "hands down" is a chocolate mud cake. "It's somewhere between a chocolate sponge and a brownie, served with a really light whipped salted caramel buttercream, "she smiles.
"There's something about being able to get up in the morning, walk into my kitchen and do something creative. I love that.  Every cake that I make for a customer is different to the last one that I made. So everything I do gives me the chance to be creative. It's hard work but I love it."
www.artisanabakes.com