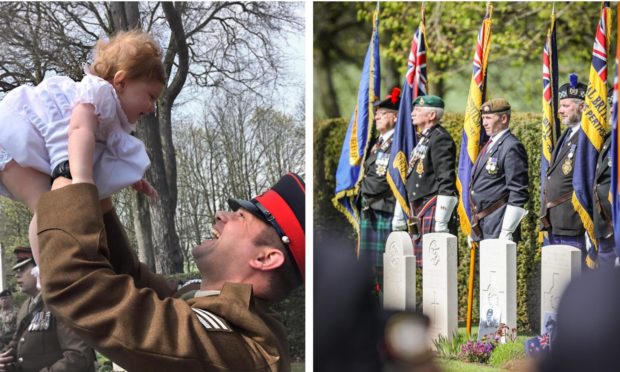 An Angus tot will capture hearts after winning a place on the pages of a national charity calendar.
The heart-warming snap of Arbroath two-year-old Sophie Strachan and her dad, Matthew, at a local Remembrance event has been chosen from more than 100 entries to feature in the 2021 Little Troopers 'Through Our Eyes' calendar.
It seeks to shine a light on the unique experiences of military children and Sophie will appear as the September entry in the shot which captures the moment she is raised in the air by her dad, an Army Reservist with 212 Highland Battery, in the Angus town.
The picture was taken at the 2019 ANZAC commemoration staged at Arbroath's Western cemetery, a centrepiece of Scotland's annual spring tribute to the fallen of Australia and New Zealand.
Sophie was delivered at home by her daddy and they share a very special bond.

Sophie Strachan's mum, Katherine
Sophie's mum, Katherine, said: "Sophie loves her daddy being a soldier.
"She always tries to pop her little feet in his boots and tries on his beret. Sophie was delivered at home by her daddy and they share a very special bond.
"Whenever we drive past the battery she shouts 'fire!'. She really misses him when he is away but daddy cuddles when he returns are the best kind."
Sophie's photo will appear alongside other heart-warming photos and stories of real-life military children as seen through their eyes.
Calendar shot was captured during ANZAC commemoration
The calendar also includes a positive message each month from a celebrity who has either served in the military or grown-up as a military child.
Figures who supported the venture include Invictus athlete and former Royal Marines Commando Mark Ormrod MBE, Colonel Dame Kelly Holmes, Radio 1 DJ and current I'm A Celebrity contestant Jordan North, actress Joanna Lumley and ex-SAS soldier and Bravo Two Zero author Andy McNab.
Sophie's photo will appear alongside a message from Billy Billingham, a decorated former SAS soldier who went on to work as a bodyguard for figures including Brad Pitt, Angelina Jolie, Sir Michael Caine, Jude Law, Hulk Hogan, Kate Moss, Russell Crowe and Tom Cruise.
Charity founder Louise Fetigan said: "Sophie's photo and the other images in the calendar really capture some of the special moments shared between Little Troopers and their parents.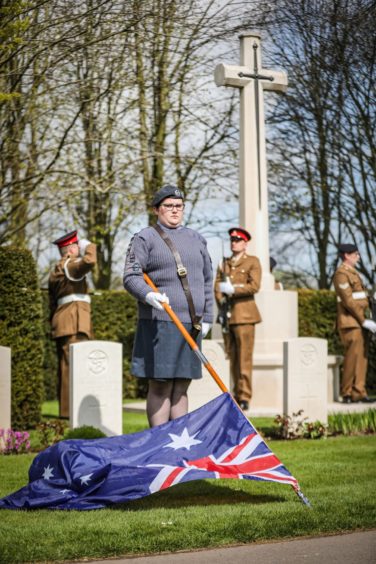 "We hope that by sharing these stories, other military children will see that there are lots of Little Troopers in the world who share similar experiences and are part of this very special community of amazing and resilient young people."
Proceeds from the calendar will be used by the charity to provide resources and initiatives to support military children.
This year, Little Troopers started a letters pack for service children who are due to move home soon and wish to keep in touch with a close friend they will be leaving behind.
The charity has also just launched a free secondary school resource hub for teachers to support older military children in school and is planning a primary school workshop roadshow in 2021.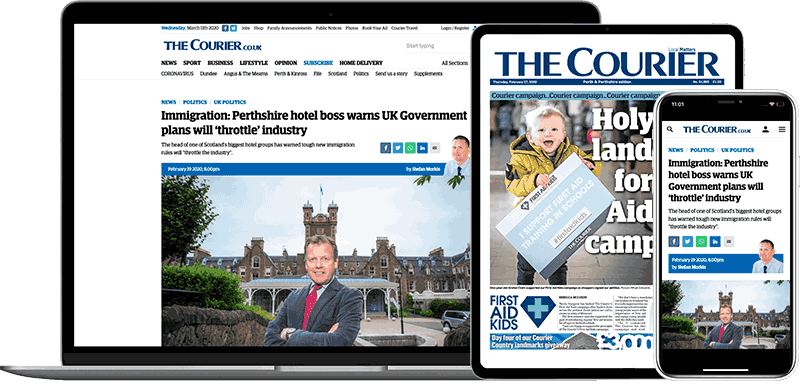 Help support quality local journalism … become a digital subscriber to The Courier
For as little as £5.99 a month you can access all of our content, including Premium articles.
Subscribe