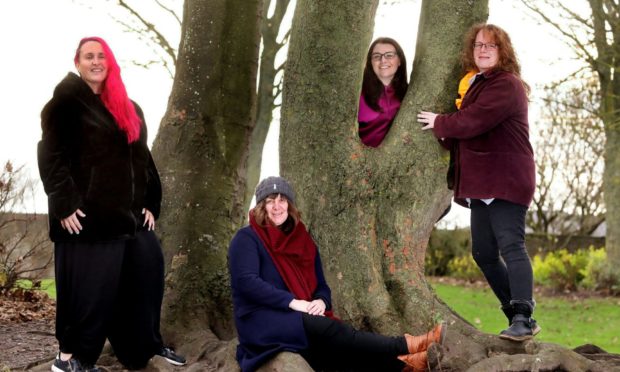 An ancient Angus apple will grow again in a new community orchard on ground where its first seeds were sown centuries ago.
The Arbroath Oslin was cultivated by the monks of the town's red sandstone abbey and is a favourite among heritage apple fans.
With a lightly-scented skin and hint of aniseed, it is also known as the Arbroath Pippin – the name taken by the group of friends spearheading the project.
They are now looking forward to an inaugural planting day in Arbroath's Springfield Park on December 12
Site with links to history chosen for inaugural orchard
The group is also hoping locals will want to put a tree in their own garden to mark an important town milestone.
Claire Pullar, Karen Elliot, Morag Smith and Natalie Cargill developed the orchard project as part of a local free food initiative.
"We all know friends and family who lost their jobs or businesses during the Covid-19 lockdown and so are determined to ensure that some nutrition is available and free for all," said Claire.
The monks cultivated the Oslin pippin variety in open walled gardens that reached from the Abbey through Springfield Park down to Victoria Park.

Arbroath Pippins group
The site for the first orchard maintains the historic link to the nearby landmark.
Monks cultivated the Oslin variety in walled gardens reaching from the Abbey through Springfield Park down to Victoria Park.
The group hope members of the public will enjoy walks around the orchard and pick an apple when it is established.
Claire said: "As 2020 is the 700th anniversary of the signing of the declaration in Arbroath Abbey, the Pippins feel it is important to have something to commemorate and celebrate the date.
Local gardens being sought as sites for special anniversary trees
"We are looking for seven residents to receive and plant an apple tree in their own garden to mark the milestone anniversary.
"These trees will be followed up with photographs and may be included in art projects in future celebrations."
Stakes to secure the trees have been donated by McKay's boatyard in the town.
Other Arbroath sites are being selected and will be planted next year as the orchard project grows.
The group hopes locals will sponsor a tree to mark important family events.
The Pippins can be reached through their Facebook page.
Claire said they were particularly grateful for the help, support and expertise they received from John Hancock, Davy Graham, Fred Conacher, McKay's Boatyard, Kate Munro at Grow Angus and Allison Elliott at Murton Trust.
Plans to mark the 700th anniversary of the Declaration of Arbroath were halted by Covid-19, but are set to take place next year.
A book covering little known aspects of the historic document was launched at the Abbey in October.