A holiday for an Angus disability group is under threat due to the lack of a van driver.
Angus Disabled Ramblers Association has made an annual trip to chalets in Aviemore for several years, but the holiday is now in jeopardy.
The members and volunteers travel in a mini bus which has been booked but their buggies are usually taken up in a separate van.
The group has less than a month to find a volunteer van driver who is prepared to spend four nights in the Highland taking the group on several outings.
Secretary Pat Huband said: "We stay just outside Aviemore in two disabled-friendly chalets.
"There will be around 18 of us in total with 11 disabled buggies needing to be transported in a van.
"We used to have a superb volunteer but he had to give up, so we're stuck at the moment.
"Unless we find someone the holiday is in jeopardy.
"The whole thing will be off and we're paid up front for it.
"We can hire a van.
"That's what we've done before but we need someone who is prepared to give up their time as we'd also need their help on the day trips we have planned.
"Ideally of course, we'd hope to find someone who would be prepared to also join us on our monthly day trips."
The group, which was established 14 years ago, is planning to take several trips while in the area, including a visit to look at ospreys, to take in the sites at Loch Morlich and a journey to the wildlife park at Kincraig.
They may also try whale watching at the Moray Firth.
The group leaves for Aviemore on June 27 and returns on July 1.
"We all absolutely love the trips," Pat added. "It's a nice activity that gets us out of the house and there's a big social element to it as well.
"We could do with more volunteers as well. We're self-funded so we're always low on funds and pleading poverty."
Anyone who can assist the group is asked to contact Pat on 01382 580569.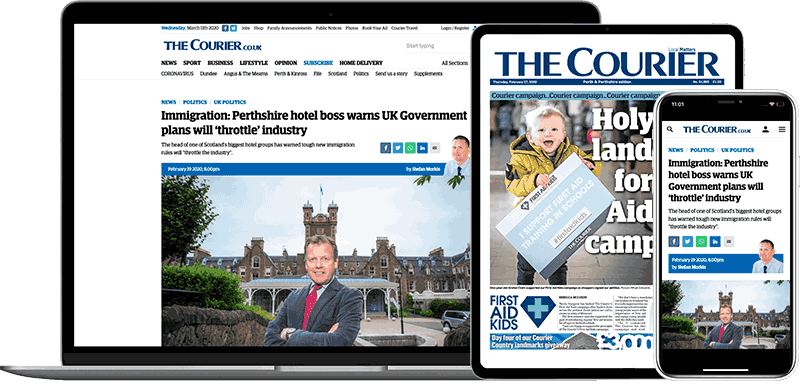 Help support quality local journalism … become a digital subscriber to The Courier
For as little as £5.99 a month you can access all of our content, including Premium articles.
Subscribe