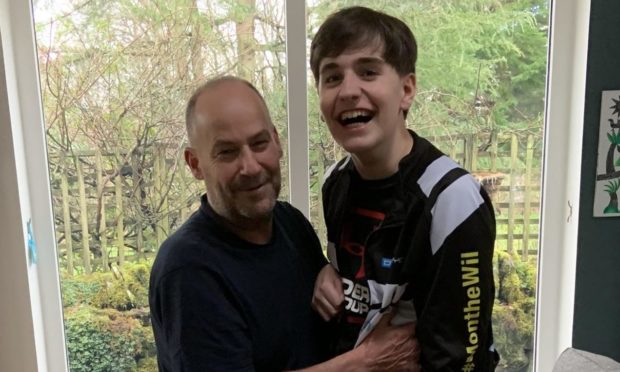 A teenage Angus mountain biker is to celebrate his Boxing Day 15th birthday at home as he continues the determined recovery from a brush with death in a quarry crash.
Wil Ritchie's fightback has convinced Ninewells Hospital medics to allow the brave youngster a four-day festive break at home on the outskirts of Forfar.
His parents said the joy of being able to spend Christmas with their son in their own house is more than they could have dreamed of.
Forfar Academy youngster Wil was biking with pals at Forfar's Balmashanner Hill in July when he suffered a serious fall.
The sports-mad teenager was wearing a helmet but suffered a severe deep brain injury as a result of the crash impact.
Fightback has inspired medical staff at Ninewells
Wil was rushed to Ninewells following the rescue operation but the severity of the crash left him clinging to life in a coma for three weeks.
Since then he has inspired his parents, Karen and David, as well as medical staff with his determination to recover.
Wil has been learning to walk again and was able to take the steps up to his own front door on a trial home visit which paved the way for the festive homecoming.
Mum Karen said: "Four days at home over Christmas is amazing.
"He has made such good progress and we always hoped he might be able to spend some time at home.
"But we had to be careful not to build up hopes for something that might not happen.
"For Wil to be with us at home to celebrate his 15th birthday is all we wanted, and more than we could have hoped for.
"We will get him home on Christmas Eve and it is such a lovely thing for us to have the time as a family together.
"For Wil to be able to sleep in his own bed and wake up in it to celebrate his 15th birthday is another positive milestone he has managed to reach."
She added: "He continues to show the maturity which has brought him this far but there is still so much to do.
"His speech is getting better and although there is still a lot to do, we are seeing improvements every week."
Crowdfunder passes £6,500 mark
Wil also continues to be an inspiration to those whose dedicated care has been praised by the Ritchies.
"They tell us they come in to work and Wil just lifts their spirits, which is lovely to hear," said Karen.
A crowdfunder set up by the Strathmore Rugby Club which Wil has played for since the age of six has now topped the £6,500 mark.
Steve Oakley of the Inchmacoble club's Grumpy Gryphons set up the £10k effort as club members prepare to cycle the North Coast 500 next summer.
Ninewells staff praise teenager's 'determination, willpower and positivity'.
Sam Russell, senior charge nurse in ward 29 at Tayside Children's Hospital, said: "On behalf of all the team in ward 29 I would like to wish Wil a Happy Christmas and a very happy birthday when it comes on Boxing Day.
"Wil has been with us for many months and he has really impressed the nurses, doctors, and therapists who have cared for him with his determination, willpower and positivity.
"We are all just so delighted that Wil has, through his sheer grit and hard work, managed to achieve his goal of celebrating his 15th birthday at home with his family."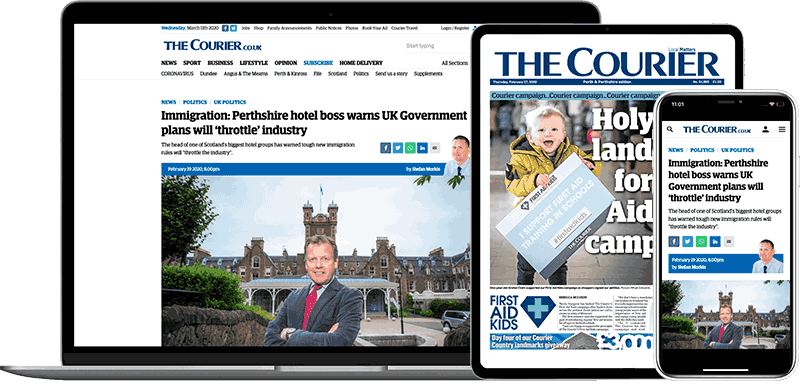 Help support quality local journalism … become a digital subscriber to The Courier
For as little as £5.99 a month you can access all of our content, including Premium articles.
Subscribe