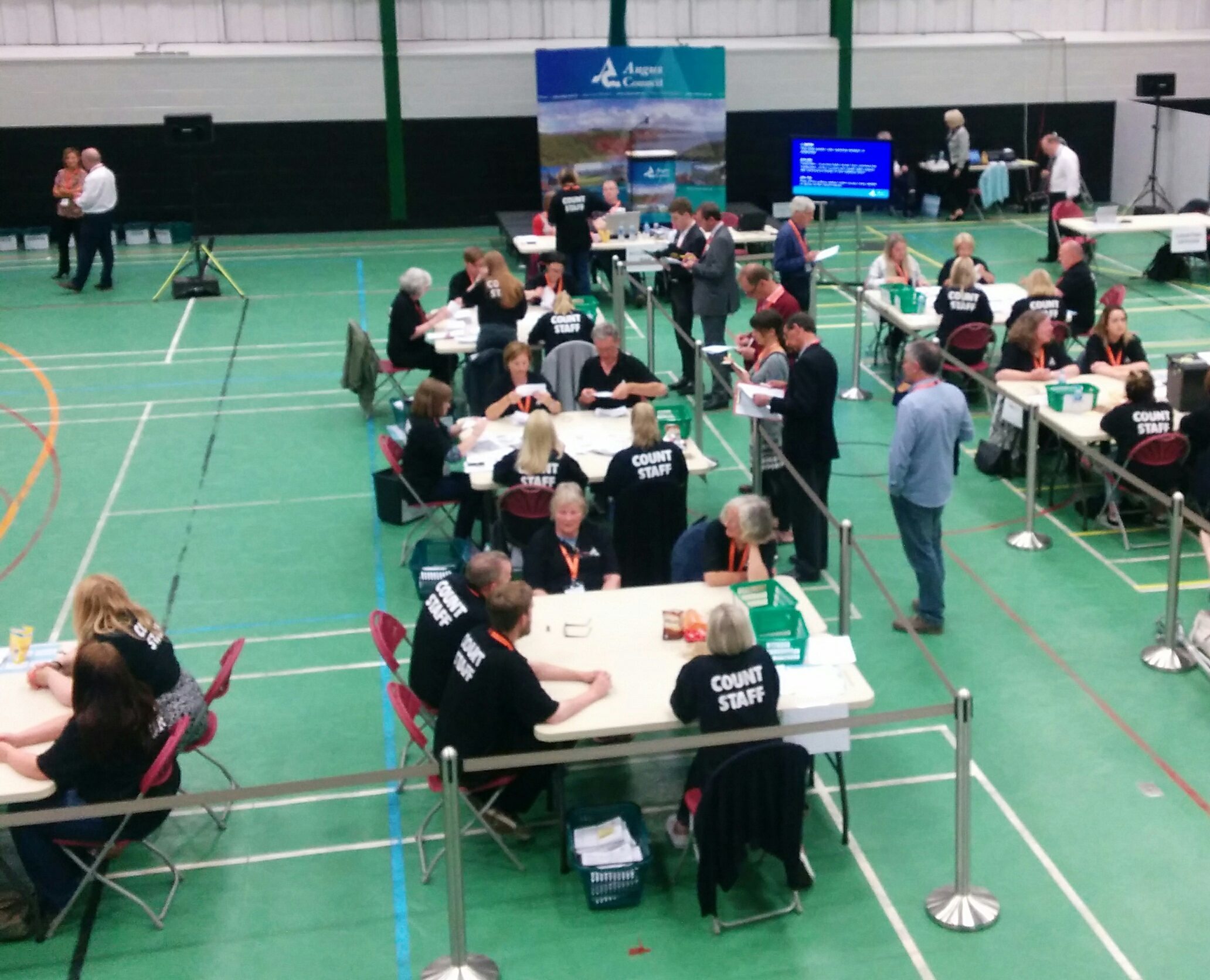 People in Angus have narrowly voted for the UK to remain inside the European Union.
There were 32,747 votes cast to remain and 26,511 to leave in the referendum on the UK's membership.
The turnout in Angus was 68% with 59,282 of the county's 87,134 electorate going to the polls.
There were 24 rejected papers.
The final opening of postal votes for the Angus voting area took place just after the county's 127 polling stations closed at 10pm.
Early indications at the Saltire Centre in Arbroath were the positive response to the postal vote had been reflected in what was seen at the polling stations.
The count floor was strangely serene with few agents or observers from either camp in attendance as the first boxes started to arrive from nearby polling venues in Arbroath just 15 minutes after the formal proceedings commenced.
By 11.25pm all of the boxes had arrived from across Angus which was half-an-hour earlier than expected.
Angus Council chief executive and counting officer Richard Stiff delivered the turnout percentage just before 1am before the result was declared just after 2.10am.
Montrose SNP councillor Bill Duff, Labour campaigner Joanne McFadden and Ben Lawrie of the Liberal Democrats were among the handful of local political figures keeping an eye on how the votes had been cast.
Mr Duff – who campaigned for a Remain vote – said there were parallels with the Scottish independence referendum in terms of undecided voters.
He said: "What I detected was a lot of people just didn't know how to vote and I think if you are not sure there is a tendency to go for what you know – the status quo.
"It's a wee bit like the Scottish referendum where some people went for the safe option and no change if they were unsure."
Mr Duff said both camps were as guilty as each other of scaremongering during the campaign.
He said: "I think some of the figures that the likes of Cameron and Osbourne put forward in terms of the downside of leaving the EU was Project Fear as well.
"I just felt the Brexit side has not defined where they want to go and that is the biggest weakness of their campaign – they put forward advantages of leaving that wouldn't have been sustained."
Mr Lawrie said: "I was a bit disheartened at first when I saw a lot more Leave votes than expected come out when they opened the first Arbroath boxes but I am delighted at the result in Angus.
"Cooperation with our European partners is more important than ever and the EU provides us with the ideal platform to work together with our neighbours on international issues."