Angus residents have launched a bid to bring one of the Oor Wullie Bucket Trail sculptures to their doorstep.
The 55 individual renditions of the comic hero have been popular with locals and visitors in and around Dundee since they were unveiled in June.
They will be auctioned on September 13, with the proceeds going to The ARCHIE Foundation's Tayside Children's Hospital Appeal.
Arbroath woman Gemma Rice has asked big-hearted locals to help secure one of the sculptures for their town, all in the name of a good cause.
The psychiatric charge nurse got the idea from an online discussion about how to bring visitors to town.
The mum of two said: "There's been so much interest in the trail that I think it's probably going to continue wherever all these sculptures end up.
"And it would bring people to our town.
"A lot of people sit back and moan about what we don't get, maybe we can do some things for ourselves and work as a community.
"We do have an interest in the Broughty one as it's another fishing town but there are lots of statues which would be appropriate so we're not setting our hearts on that.
"First thing would be to secure ourselves a statue and look at a possibility of a schools tour while we are deciding where it goes, the planning permission and what have you."
Gemma, 33, has secured £500 pledge from a trust through local solicitors Whelan & Co, and a business donation from Active Art of £150, with online crowdfunding at around £500.
"The ball is definitely rolling," she added.
"Even if people can't afford to donate, please share the link and let people know what's happening."
She was helped to create the crowdfunding project by Angus Council's funding policy and projects team, and the campaign is "all or nothing" which means donations go back to donors in the event a sculpture is not secured.
Meanwhile, Young Scot is running a rewards offer for young people exploring the trail before it comes to an end on Saturday August 27.
Using the official Oor Wullie's Bucket Trail mobile app, those who track down 10 sculptures they will unlock a code to gain 250 Young Scot reward points.
All of the sculptures will be displayed in Slessor Garden in Dundee from September 9 to 11.
Cassie Thompson, head of fundraising for ARCHIE said: "It has been wonderful, as organisers, to see so many people of all ages experiencing Oor Wullie's Bucket Trail."
ARCHIE, along with partners Wild In Art and DC Thomson, brought the project to life to raise money for the ARCHIE Tayside Children's Hospital Appeal.
The scheme aims to create a new twin operating theatre paediatric suite for the Tayside Children's Hospital at Ninewells.
To support the Arbroath project visit www.crowdfunder.co.uk/arbroaths-oor-wullie-1 or go to www.facebook.com/arbroathoorwullie for the campaign page.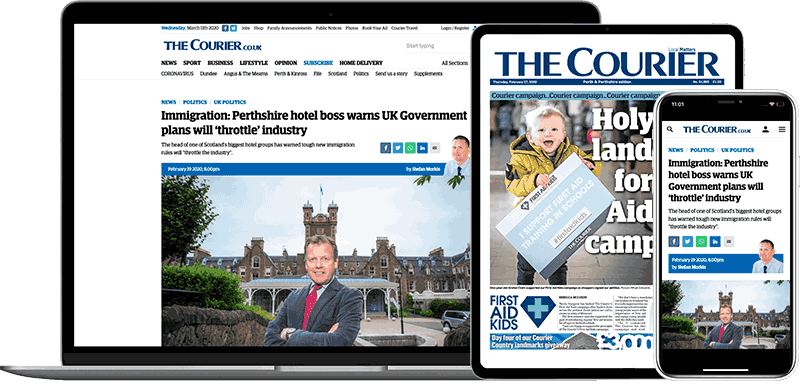 Help support quality local journalism … become a digital subscriber to The Courier
For as little as £5.99 a month you can access all of our content, including Premium articles.
Subscribe