In the third of our five-part series looking at the changing face of Courier Country High Streets, Michael Alexander visits the Angus town of Montrose.
It's a dreich, cold morning when I arrive in Montrose.
There are plenty of parking spaces on the High Street  but they're all occupied so I follow the road round to the Tesco car park, 300 yards from the town centre and close to the railway station.
The town's main supermarket is also bustling. Aside from the convenience of shopping under one roof, a major attraction here is the supermarket cafe, where the all-day breakfasts, soup of the day and bacon rolls are doing a roaring trade.
The presence of a Tesco so near to and yet so far from the High Street might be seen as a threat to independent town centre businesses but David Taylor, 70, sees things differently.
The retired Brechin High School geography teacher has travelled the eight miles from Brechin, making the most of his senior citizen bus pass.
He's been making the trip for 40 years, and whilst he has the option of travelling to Forfar, what makes his trips to Montrose more attractive is that he can combine shopping trips with a walk at the beach.
"The pull of the supermarket is nothing new," he says, polishing off his tea and scone.
"We had Wm Low here before Tesco and apparently there's an Aldi going down at the old Co-op.
"But to be honest I think the supermarket probably helps Montrose.
Read more on Our Changing High Streets here
"It's only 300 yards from the High Street which can be accessed just up the back there via a close.
"I'll be going up to the chemist in a minute to get sun tan lotion for my holidays.
"Some people say there are too many charity shops in the town. I think there are six or seven at the moment. But it's not all bad. I like to go in and look at the books."
Christmas lights bring an early festive feel to the centre of town during my visit, and the High Street is busy with pedestrians and still dominated by cars. Hundreds of school kids descend on town centre sandwich shops like Subway and Greggs at lunchtime.
Yet the face of the High Street, like so many town centres, is changing – and new ways are being sought to make the centre more attractive.
Compared with some towns, Montrose still has a fairly good mix of independent shops sitting alongside high street names like New Look and saver stores like Semi Chem.
New restaurants and cafes have also been moving in.
Look above many of the shop fronts, however, and there's a tired feel to the general infrastructure with many buildings needing a lick of paint.
The number of charity shops occupying vacant properties also mask deeper issues as businesses try to deal with issues such as more internet shopping, relatively high business rates and post-2008 recession economic fallout.
So how do local businesses see it?
Simon Kelly is a graphic designer at family-run The Print Shop at 149 High Street. He's the son-in-law of the owner of the business, which has existed for 28 years. The shop specialises in the printing of business cards, fliers, orders of service for funerals and weddings.
He says that whilst people will shop for "bits and pieces" in Montrose, they tend to go further afield to Dundee or Aberdeen for anything more substantial.
Despite the widespread pressures, however, Simon says their business is bucking the trend because they offer a quality service where people can handle their products and rely on reputation.
"From our perspective we are actually really quite positive just now," he says.
"For the last 2.5 years we have been extremely busy and there's no sign of that relenting at the moment.
"From our point of view we are perhaps bucking the trend so much so that last year we actually invested in new machinery.
"But certainly in terms of the High Street you can see an awful lot of changes.
"We are probably fortunate that we don't have any direct competition in Montrose.
"The nearest print shop is Brechin or Arbroath.
"And because we are long established we have such a good reputation customers keep coming here.
"In terms of looking forward we remain positive because business is buoyant."
The use of the internet has undoubtedly changed shopping habits for many businesses, and Montrose is no different.
An influx of cafes and restaurants has also helped bring people in and keep people in the area.
The return of a cinema, currently mooted, might further help make the town centre more attractive.
Yet like the internet, some forces are out with local control.
With many Montrose residents commuting to Aberdeen, the changing fortunes of the oil and gas industry has had a negative impact on the town with less money about, business say.
Locally redundancies are looming with GE – one of the big employers in Montrose.
More positively Glaxo, already a big employer, recently announced a £110 million investment safeguarding its future in Montrose.
The type of shop is also changing.
Angie Ogg, the Montrose-raised owner of Mo2Vape at 144 High Street –which for eight months has been selling vape kits and e-liquids for people trying to give up smoking – has a "bugbear" about the number of charity shops on the High Street. She says the rates charged for businesses are "extortionate". She also describes parking as "horrendous".
But she's not sure what the answer is.
"The High Street is definitely changing," she says.
"A lot of people do the online shop these days. It's hard for retailers.
"I think it's just the way things are now. I don't know what they can do to help. There isn't really anything to be honest. It is just the way it is."
Brian Burnett, 31, sales assistant at The Salvation Army at 110 High Street, says it is a myth that charity shops get special rates, and he's pleased that he's got a job.
But he describes the High Street in general as "stone age" and thinks it should be "remodelled" to make it "fresh" and more attractive.
"There are a lot of charity shops in Montrose," he says.
"It's the same down in Arbroath where I'm from.
"But I think what people like is that we are cheaper than the chain shops like New Look. It's a sign of the times.
"Our flow of customers tends to be weather dependent. If it rains people don't come in so much."
It's not all about sunbed and tattoo shops, discount chemists and sandwich shops, however.
Richard Barclay, 44, is a partner in J Barclay Butcher at 90 High Street.
The business, now one of just two independent butchers in the town, was originally set up by his father 33 years ago and has won a civic award for the appearance of its front shop.
"I think if you sell a good product you'll survive," says Richard.
"Quality has to be above the supermarkets. As long as you have that quality you should be ok. But it is getting harder."
The recently published charrette report, led by consultants Austin-Smith:Lord,  described Montrose as "one of the exemplar Scottish royal burghs" . It highlighted the High Street and the closes as a "terrific collective piece of urban history". However, it stressed that they need maintained.
"The spaces are underwhelming," says consultant Graham Ross.
"The spaces are car and traffic dominated so there needs to be a shift in the way in which these spaces are laid out.
"The town needs to be far more people focused and pedestrian focused."
Suggestions include improved links between the High Street and the Tesco area.
Other ideas to improve the infrastructure of the High Street included widening pedestrian access, improving the area around the town's train station and improving the links from the centre to the beach.
Montrose councillor Bill Duff says the findings of the charrette are being considered.
"There were a number of themes that came through," he says.
"One of them was a move to change the High Street so that it was much more focussed on pedestrians and a lot less on vehicles.
"Basically narrowing the vehicular carriageway and widening the pavement. That would obviously be a big scheme and be pretty costly.
"One of the criticisms is that when you come into the railway station in Montrose you don't know where you are or don't know where anything is. It's not obvious how you get to the High Street."
Mr Duff said according to the consultants, Montrose is no better or worse than other towns when it comes to town centre properties.
What is being investigated, however, is whether vacant properties can be converted into flats to be made useful for young people to live in the town centre and commute to Dundee or Aberdeen via the railway.
Mr Duff adds that Angus has not decriminalised parking so the only people who can enforce parking rules are the police. Changes, to give powers to the council, are planned for next year with the intention to keep parking free.
And he's confident that if the town centre adapts to bring more people in whether that be though bars, restaurants or housing, then it can survive.
It's a message echoed by Angus Council which says Angus and Montrose are "very much open for business".
A spokesman said: "That is evident by the many successful national and international businesses that have chosen to locate and invest in the area, as well as through our local retailers who work extremely hard in challenging economic times and within an ever evolving digital environment.
"Montrose town centre provides an attractive and vibrant shopping experience – one that is rooted in its being a Royal Scottish Burgh, but which has also moved with the times.
"We, like our retailers, recognise the challenges presented by on-line shopping and customers who are more digitally adept than ever. But this presents many opportunities as well as challenges.
"A balance exists between footfall and online purchasing that is different for each respective business and retailers are alert to this.
"We are available to offer advice, information and support to our retail community to try to help them to successfully grasp those opportunities.
"Indeed, a number of businesses who are active in digital/social media have embraced the opportunity to promote their services, stock and products.
"Our Business Gateway service offers free training to anyone interested in learning more about digital opportunities.
"The multi-million pound South Montrose regeneration project also seeks to improve access to Montrose, stimulate economic activity and local jobs to help the town thrive long into the future."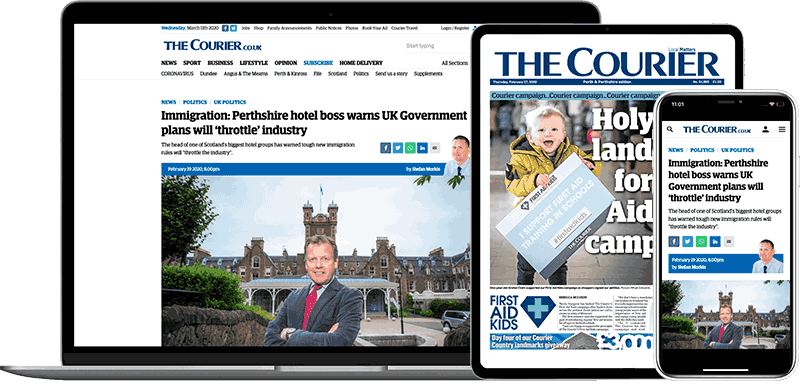 Help support quality local journalism … become a digital subscriber to The Courier
For as little as £5.99 a month you can access all of our content, including Premium articles.
Subscribe